Bob and Bobek: Ice Hockey – A Comic Take on a Classic Game
Bob and Bobek: Ice Hockey is an arcade style hockey game. It is a simple but well executed take on a classic sport. The main characters are cartoon bunnies that bring a comic side to add appeal to the game. The game barrows its characters from a famous Czech cartoon of the same name. A fresh take on a classic game brought to you by VUISS Technologies.
Bob and Bobek's game play is arcade style. It consists of six bunnies on either side: five on the ice and one on each goal just as in a standard hockey game. On the screen you have two static controls. On the left is a green button with arrows pointing in four directions. This is the movement controls. You slide the button in the direction you want your player to move. On the right is a read button with a yellow small circle in the middle. This controls the shooting of the puck. A quick tap shoots the puck at a set rate. Holding the right button down lets you control the power of your shot.
Other aspects of game play include being able to play 16 select teams from the World Hockey League. National teams from several countries allow for wider appeal. Each team has different attributes which make them unique and reflect the strengths and weaknesses of the real life teams. You can also play online multiplayer against other people.
For those who are unfamiliar with  Bob and Bobek they are two Czech cartoon characters. The show is based on the adventures and misadventures of Bob and Bobek who live in a wizarding hat. Bob is the larger of the two and often acts in the fashion of a parent to smaller Bobek. Bobek while smaller and shy but skillful and imaginative much like a child. Bob and Bobek have creative ideas but often fall into difficult situations which is the basis of the comic humor. While the show is meant to showcase good manners the characters are not perfect and have negative traits which make them more relatable. Bob and Bobek have been featured in many different ways. They are iconic in the Czech Republic much like bugs bunny is in American culture.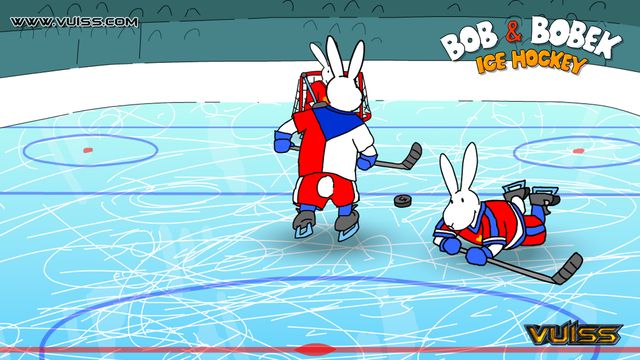 Bob and Bobek are the mascots of this year's World Hockey League championship being played in Prague-Ostrava in the Czech Republic. This unique combination leading to the game we are reviewing today. Bob and Bobek being National Symbols in the Czech Republic it is only natural for a game to be made to help raise awareness of both the country and the game of hockey itself.
The game while all around a good play and well-crafted faces one major issue, monetization. How the game makes money is forcing you to buy the next levels before you can further in the game. While this is not uncommon in the mobile gaming world it could be more enjoyable if you could somehow unlock the other options by completing tasks or promoting the game. This is a problem wide spread in the casual game market so VUISS Technologies can't be blamed for it.
Bob and Bobek: Ice Hockey is a comic take on a classic game. Its arcade styling provides mass appeal. Its simple intuitive design makes it approachable and easy to learn. I would recommend this game to anyone who wants a quality game to play on their phone.