Solitaire TriPeaks – Brainteasers with Sandy Beaches
If sandy beaches and brainteasers are something of interest to you, then Solitaire TriPeaks is sure to satisfy both of those needs. The virtual game, which is available for free on Android phones, takes players on an adventure with a tiki as they pass each of 600 levels on the beaches of a tropical paradise. Several bonus features pop up at random and their effects range from acting as the players next needed card to moving the player up a level.
The purpose of solitaire is to keep the cards going in their proper order, whether forward or backward, and in as much of one color as possible. There is a catch though. If there are two cards of the same number, but different color, they cannot be played on top of one another, but if there is a consecutive number in the opposite color, that card can be played.
The bonus features that appear in Solitaire TriPeaks all relate back to the tropical theme of the game. There are volcano symbols, shark hooks, flowers blossoms, a magic eye, and a peek-a-boo card. Each one has an individual special feature that can earn you hundreds of coins for your bank.
After downloading and opening the free app, players are taken to the first round of the game. During this game, players are basically shown the ropes courtesy of a few arrows showing you which card(s) you could pick next. This is a great refresher for those who haven't played in a while and ideal for first time solitaire players. The refresher course lasts only for a few plays of the cards. Afterwards, you are on your own.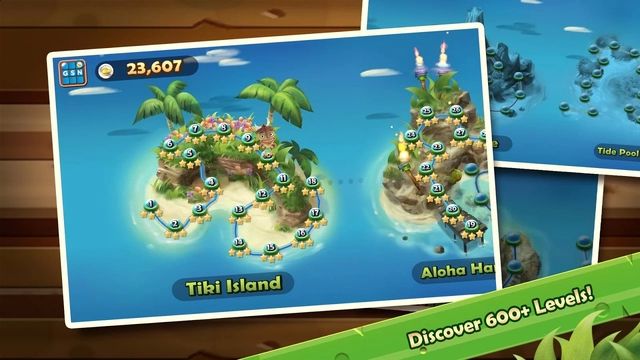 Players earn coins each time they choose a correct card and can flip over a new card from the deck whenever necessary, but it will cost you a few coins to do so. Keep in mind that with each level comes harder plays. This game was really designed to be easy on the eyes, but not the brain. Throughout out the game, wild cards and bonus features will appear at random. There is no way to activate these cards, but take advantage of them when they appear. They are your ticket to larger prizes.
The graphics and overall concept of Solitaire TriPeaks is by far the most unique aspect of the age-old game. The peaceful beach-inspired background is calming to look at, while the bright colors keep your eyes from getting tired. The overall graphics of the wild cards and the player's tiki friend is impressive in itself and adds to the overall feel of the app. The music, which sort of resembles that of something one would hear on vacation to Hawaii, is uplifting and has a catchy tune.
The flaw that stuck out the most in Solitaire TriPeaks was the inability to customize. Most app games gives players the option to customize music, backgrounds, colors, volume, etc., but this app does not give you that option. The only options are the ability to share on Facebook, view some FAQ's, increase/decrease the volume of the music, and join a chat group. Although the design of the app is beautiful, customization is always a bonus and makes players feel like they are taking part in their past times.