When the whole world is in some form of lockdown, it becomes very hard to spend time, now that you cannot step outside your home to meet your friends. Thankfully, there are some quality gaming apps in Google Play Store and we'll discuss one of them here. This game brings you mythology and strategy building together, but not in a way you'd find most games to do. We are talking about the Viking Lumberjack, Puzzles and Bubbles game.
The story builds like this: a million years ago, supposedly when Vikings ruled upon the world, they were tasked with an important responsibility: to maintain the balance of nature. And supposedly, things have been going well until now (unsurprising, considering how 2020 is faring to be). Vegetation has started taking over the planet and it is up to the Vikings who have to use their valiance to bring back the balance on earth. Unfortunately, the Vikings lost the chance and had vegetation capture their ancestral lands, and find themselves exile those lands. Until centuries later, a lumberjack, descendant of the Vikings, took up an axe to reclaim his ancestral land.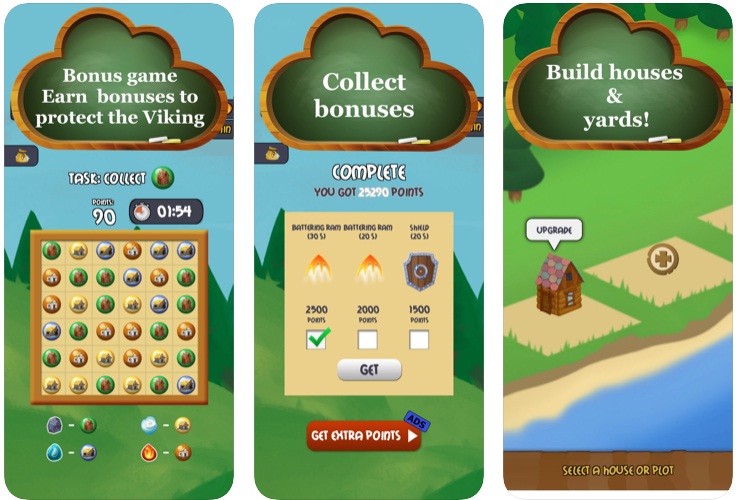 The catch here is that the lumberjack is not so bright, and relies on you for guiding it through strategy. However easy it may sound chopping off inanimate trees, the challenge here is to navigate the lumberjack. You'll find yourself in a rectangular arena with lots of trees, vegetation etc. You'll also find hurdles and boulders placed randomly all across the arena. The challenge here is that the Viking descendant lumberjack probably didn't learn the concept of brakes, and keeps going on one direction until it encounters a blockage or a boulder. You'll have to make use of these boulders to strategically guide the lumberjack all across the arena so that he can clear up all the vegetation (something he is very good at).
Up until the level of 1 to 10, things seem easy. As you progress, you'll find things start getting challenging. Soon, you'll find yourself limited by the clock to figure out the most effective strategy to use the boulders in guiding the lumberjack. And if that did not seem challenging enough, on the later stages of Viking Lumberjack, you'll find yourself getting attacked by other warriors who don't want you to cut off the vegetation, and you have to devise a way to remain out of their grasps. You can also spend coins and experience points that you earn along the way, to make things easier, buy spending on buildings and fighting off these attackers. All in all, there are 200 such levels to play!
The biggest disappointment though is its graphics. They are not the worst in the world, but in this age of technology, you would probably expect better than what they are offering. It works smoothly enough on an Android smartphone and it's one of those games you can keep playing for hours without having to search for your charger. The background score is good, though it becomes monotonous after some time. But truth be told, this game is really fun to play if you like challenging yourselves and hone your grey matter. It's one of those games that you can play for hours without realizing how time passed by.