Having a reliable antivirus app installed on your android smartphone is very crucial. After all, the android platform is the most used platform for smartphones and smart devices alike meaning that the user target for malware is bigger.
The reason for the emphasis on having a reliable anti-malware app for your device is because smartphones have overtaken PCs in terms of usefulness and we use them for the functions as computers to E-mail, shop online, and even carry out bank transactions.
These are all platforms with very sensitive data, and this begs the question is having a free antivirus software sustainable? The answer is not definite because the free version is useful for basic tasks such as regular scanning. Still, for more intricate functions such as securing bank details, you need to get a premium anti-malware software.
Many of these apps work well to automatically scan your android device and notify you in case of any threats. This review will comb through the various anti-malware apps for the android platform, discussing both their benefits and drawbacks.
The Best Android Anti-Malware Apps in The Market
Bitdefender Mobile Security
Bitdefender's android shield app has almost flawless protection for your android device. This antivirus has features including smart-wearable integration, VPN client, malicious website blocker, which integrates well with most browsers on the platform.
This app has a 99.9 percent rating from multiple sources, making it a very reliable solution for you. Bitdefender has various protection tools including a Wi-Fi scanner, anti-theft feature, and data breach notifications.
Bitdefender gives you a 14-day premium trial period after which you are required to subscribe for premium on an annual basis. The other option is using its free version that is restricted to only scanning for malware.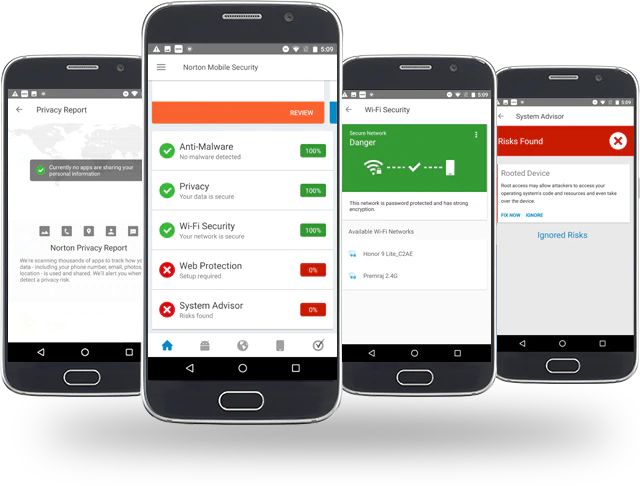 Norton Mobile Security
This mobile security app by Norton also has top-notch security features. However, the app removed some of its best features including contacts back-up and anti-theft properties and its malicious-link blocker.
Norton, unlike other platforms, does not have a free version. This was removed some time back making Norton android services entirely premium. The app costs a bit more than other premium android security subscriptions owing to its tried and tested security corridor.
Norton mobile security also incorporates an App Advisor, which lets you know when an app is using too much data and even any unusual behavior. This app also scans apps in the Play Store before you install them to confirm if they are security risks.
Kaspersky Mobile Antivirus
Kaspersky mobile security for the android platform offers impeccable malware protection alongside other features like a call blocker and a small system impact (SSI). This application includes a free version that has no commercials, unlike the other platforms. However, this begs is free anti-malware software good?
The app does not constantly nag you to upgrade to the premium version meaning you can use the free version comfortably. The unpaid version gets you anti-theft and android wear support, but the downside is you have to manually scan your apps.
The premium version will include extra features like an app lock, automatic app scanning, and blocking of websites known for phishing; a plot in which a web user is deceived to reveal their personal info using spam mail.
Avast Mobile Antivirus
Avast mobile is one of the best multi-featured android security apps. This app has features ranging from a customizable blacklist to a privacy consultant and a system optimizer.
This app includes a free version, but the downside is the constant nagging to upgrade to the premium version. This app contains a VPN as well, which is a mocker, and the only way to enjoy its features entirely is by further upgrading to the ultimate version.
McAfee Mobile Security
McAfee android security app is quite impeccable. It has a free version that has a lot of ads, although the malware feature is outstanding. Other features for the free version include the anti-theft, WIFI security scanner, and an app data usage tracker.
This app has a middle- tier version known as the 'standard' that adds an app locker and 24/7 support. If you choose to upgrade to the top-tier version known as the 'plus version' you get unlimited VPN usage for your android device.
The notable feature of this app is the guest feature that lets you control what people can access when they are using your phone.
Final Thought
To sum it all up, there is a wide range of options for your android device security-wise as we have seen above. Some of the apps have not been mentioned in this review, although they are equally good as well.