Being a camper is both exciting and challenging, but it is more interesting if you are in a camp with a camper van that has all the features that will make your adventure comfortable. You probably want a recreational vehicle with a sophisticated kitchen, a nice place to sleep, and a decent toilet. Buying a new one may be too expensive, or at least, beyond your budget, but luckily, there is an application that brings sellers of used recreational vehicles to buyers. You can download it and shop for an affordable camper van.
Vancamper is a mobile app that is compatible with both android and apple mobile devices. It is basically an online market for camper vans, schoolie, truck camper, and all other types of recreational vehicles. The app is available on Google play store and App store. Of course, you can download it for free. Vancamper allows sellers to list their RVs, and buyers to shop for them. Both sellers and buyers can also interact directly through the real-time messenger on the app. But that is not all the reasons to get this app.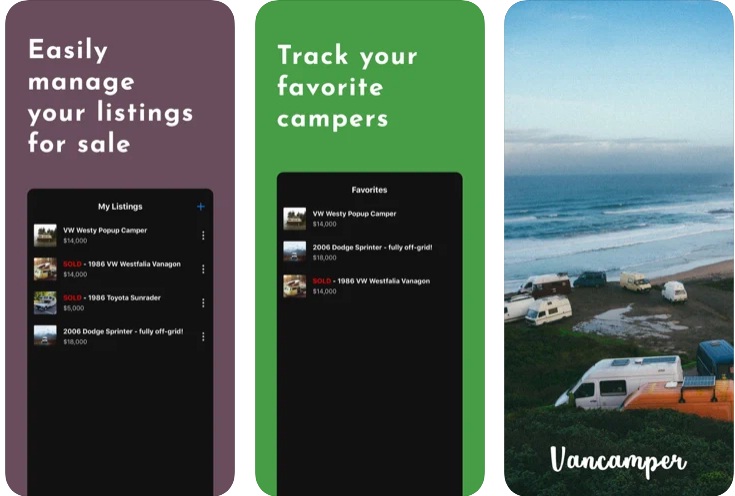 More Features of Vancamper
Because recreational vehicles vary so much in features and specification, it may be difficult to see one that has all your desires if you go by manual search. They are also not as common as conventional cars, hence getting one directly from the owner might not be easy. You don't get to know camper van sellers every day. But Vancamper makes it easy to filter the search by as many features as you like and connect you directly with the seller. You may filter by the kitchen facilities, by the shape, or type of roof. Of course, you can filter by the conventional features like the price and location.
The ease of registration and usage of this app is another factor that will encourage every user. You can bypass the registration process by simply registering with your Facebook or Google account. So, next time you want to log in, you log in using the same process. No username needed, no password required. After login, you have the liberty to adjust the appearance of the app by switching between light mode and dark mode.
Sellers also find life easier. Maybe you have been looking for ways to sell your old camper van, Vancamper makes it easier for you than writing for sale on your vehicle. Not many people around you are actually interested in a recreational vehicle. But once you list your vehicle on Vancamper, the vehicle will automatically be visible to all the users of the app. To list any RV on Vancamper is easy and straightforward. Beyond those that are already using the app, you can also promote the sale of your vehicle by sharing the link with your followers on social media. It won't cost them anything to download the app and buy from you. It's one of the best ways to sell your camper van.