As much as parents want to minimize screen time for kids, there is no escaping the use of apps to keep them entertained, and even educated. While too much screen time can be a negative thing, used with limitations, it can mean the difference between a calm household or an environment that has gone mad.
Lagoona is an app that encompasses a multitude of kid friendly activities, to keep them busy, keep their minds engaged, keep them out of your hair, and keep them out of trouble. At a glance, it's comprised of seven mini-games, each built with an incentive program to keep kids going back for more and stretching their limits. While the games are fun, their aim is to create some internal competitive spirit to see if kids can best themselves, which goes a long way in teaching kids to go above and beyond and to be determined.
Each activity can be played at three different levels, so it can be said with full confidence that this app will grow with your child. The app itself is extremely easy to navigate, requiring little or no reading skills. I don't know about you, but even if there were any reason to have to read where to go, kids would still figure out apps without reading. All they do is tap away and figure things out faster than any adult I know.
What really caught my eye was the artwork. It's bright. It's animated. What more could a kid want. It keeps them locked and loaded on the game and ready to take the next step. It also emits a kind of happy sensory feeling, which I give super bonus points to, because anything that can keep a kid in a good mood gets my vote!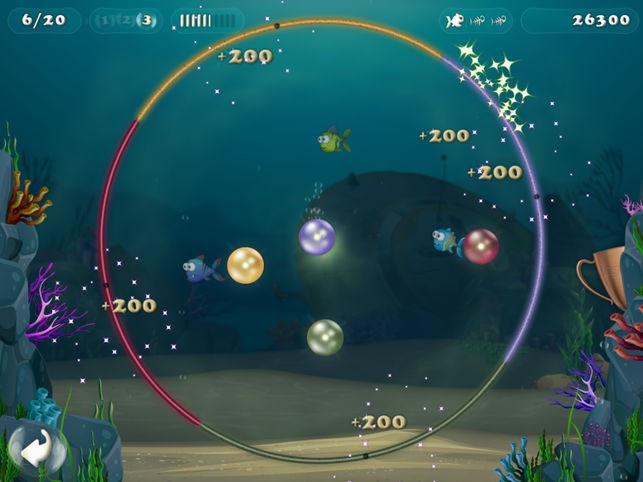 Another feature that's important, especially because you most likely will be using this app when you are not close to any wifi, is that the app does not need the internet. It's all self contained on your device. Double bonus! You don't need to be connected and your kid does not get exposed to the wildness that is the internet!
Games include puzzles, dot-to-dot drawings, painting pages, matching games that involve shapes, and sorting games. As kids complete activities, they score stars, between 1 to 3. The number of stars awarded is based on how accurate the answers are and how quickly the activity was completed. Collecting stars is fine for the younger audience, but what was really neat was the incentives that older kids can collect in the form of fish food. Yes, fish food. You see, the main screen of the app looks much like an aquarium, with fish and all. As you score stars, you will start to see a variety of things to feed your fish. Share these items and watch your screen explode with an aquarium wonder.
Take note that Lagoona is currently only available on the iPad, so I am sure that many anxious parents out there are looking forward to the iPhone version, because let's face it, most of our time is spent out and about with kids and that's when we need apps like this the most.