Workout Organizer is designed to make your workout sessions more enjoyable by allowing you to stay organized. It is made with simplicity and user friendliness in mind without compromising on the functions required of a workout app. Workout Organizer equips it's user with different functionalities to make your workout sessions easier. The features include the ability to create/edit your playlists, dual timers and health calculators.
To use the app you will find that the user interface resembles and functions like that of a music player making the Workout Organizer is easy to use. You will not need to learn how to use another app (again!) instead you will use it like the music player you have on your android phone/tablet.
To create as many workout playlists as you would like, set the duration for each workout, input its name and click save. However this feature is limited to three playlists if you are using the free version of the app. If you would like more, then you should consider getting the full version. The playlists you create can be customized to your immediate needs, or edited when you feel like it, making it a handy tool for different workout sessions. Don't forget to save the playlists for future use, a feature that is present in the Workout Organizer.
The sound notifications alerts you when a workout begins and when it ends, ensuring that you get a full workout in without stopping to consult your watch/phone. With options to choose from, you can set up your alerts with whichever sound notification you like. To further ensure that your workout sessions are well timed, use the dual timers which indicate how much time you have left for the entire workout and the duration of the entire workout. This timer comes with an inbuilt music player widget which allows you to listen to your music from your player as you workout.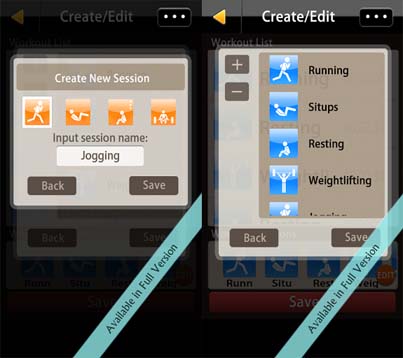 You need to live a healthier life, that's why you are working out. Workout organizer not only times and plays your workout sessions it also allows you to calculate your current health status. Input your gender, weight in pounds and your height in feet and press calculate. The Workout Organizer calculates your body mass index letting you know whether you are healthy, underweight or overweight.
An easy to use interface makes this organizer very simple to use because you use it like your regular music player. For example setting up different workout playlists is no longer a daunting task. Creating and managing your playlists is easy. Sessions can include jogging, resting, sit-ups, pulling, which are easily selected depending on what you want to do on that day. It is also easy to scroll through and select your next session.
Another unique aspect of the workout organizer is the health calculator. This gives you information pertaining to your health status allowing you to work out depending on your needs. To get the most out of this organizer, you have to buy the app. If you use the free version, access to the full potential of the app is limited. You will be unable to create and edit more than three workout playlists as well as use the dual timers.
In summary, Workout Organizer makes workout sessions personal and enjoyable. After creating your playlists, it is easy to workout using the sessions recommended for you and you current health status.