Living in the 21st century and using an old-fashioned paper-based business card not only seems outdated but is also a less efficient way of networking in the fast-paced business world of today. It also leads to waste-generation that is harmful to the environment, for more often than not these cards end up in the trash. An estimated 88% of millions of business cards printed in the United States alone end up in garbage on a weekly basis. But it all changes with Mobilo Card which is a revolutionary, one of its kind tech-laden business cards developed by a firm based in New York City.
Mobilo Card uses the 'Near-field Communication' or NFC technology with a built-in chip which allows you to share your contact details with just one tap on a smartphone. It also offers a QR code functionality for older phones that do not support the tap-to-view function. This smart business card is a sure-shot way of making that first statement to win over clients and potential customers. Impressions last forever, they say. Mobilo Card helps you achieve that by offering four functional uses. Firstly, as a virtual business card, you can share your details much faster and reliably. Secondly, you can link it to your social media accounts so that your customers can get a more detailed and broader overview of you. Thirdly, it can be used as a tool for lead generation. You can solicit information from your potential customers and import it in a safe, fast and reliable manner. And lastly, you can also link it to various web pages which allow you to open video links while you are interacting with people. So, it can be used while making presentations for your products or business ideas. Mobilo Card is a one-stop solution for all your networking needs.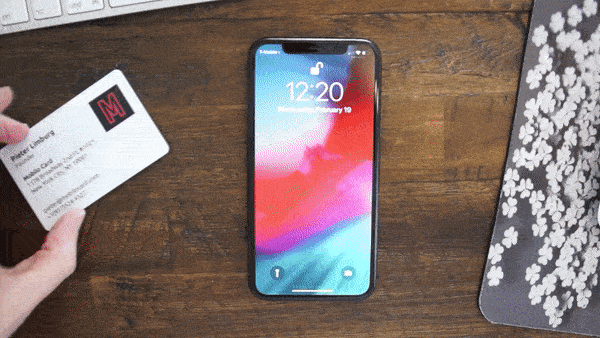 The card is easy to use and update as it is fully synced to your account in real-time. Therefore, unlike your usual business cards, you don't have to get it reordered every time there is a change in your portfolio. It makes the entire process quick and hassle-free.
The best part is that all of this functionality does not come at the cost of aesthetics. Mobilo Card looks sophisticated with its minimalist design, underscoring the philosophy of the serious modern businessman obsessed with efficiency.
As far as its price is considered, the firm charges you only at the time of placing the order and there are no recurrent charges. They offer two plans called Mobilo Branded and Fully Personalized which cost $7 and $39, respectively. With the latter plan, you can get your own logo and other personal details printed on the card too.
There is one concern about NFC cards and that is privacy. Since the card is linked to your various social accounts, in case you are to lose it somehow or it is stolen, your personal details can be misused. It can lead to identity theft or misappropriation of your private information. This can pose a potential security risk for you. However, Mobilo Card can be deactivated remotely. So this card is safer than your paper business card or other NFC cards.
Be that as it may, Mobilo Card is a great tool that you can use to leverage technology for your networking requirements. It is user-friendly, ergonomic, and minimizes environmental damage. It is a worthy investment if you are trying to make contacts quickly for your venture. Give it a shot!