If you've been avoiding copying those DVDs stacked up on your media console because you dread the time it will take out of your weekend, stop procrastinating and get WinX DVD Ripper. Created by the developers Digiarty WinXDVD who bring you a variety of DVD and file saving applications for all types of machines, WinX DVD Ripper is primed and ready to download DVDs to you PC, for use on just about any type of media.
I think we all know the pluses to saving DVD content. They range from saving space and getting rid of the "hardware" to knowing you have DVD content saved away in case the DVD itself becomes unreadable or lost. Another advantage is being able to view the saved copy on mobile devices, so you don't have to lug around DVDs on your next vacation, which requires you to also have the viewing hardware on hand, as well.
Whatever the reason, it's important to use a program that provides the best quality balanced with quick turnaround. No one wants to spend hours waiting for a DVD rip to finish. If you are like me and you have over 50, you'll never embark on that project. WinX DVD Ripper is the program to use. Using hardware acceleration technology, its latest update has improved its DVD ripping and copying by 50%.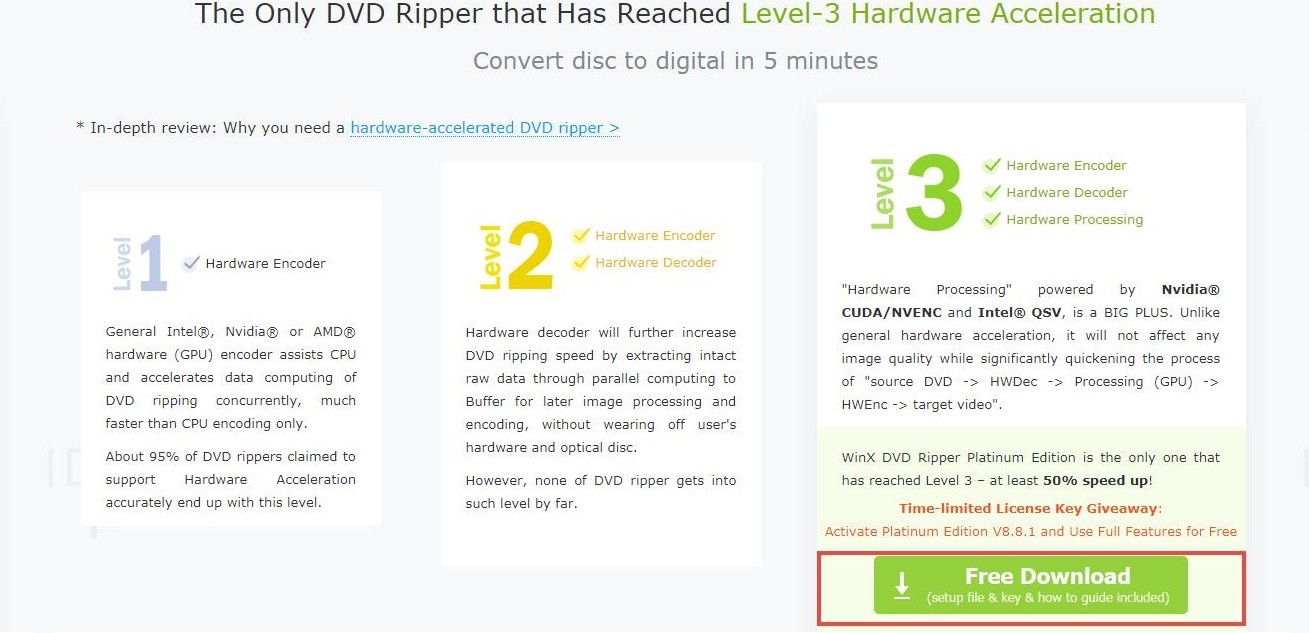 Free Download WinX DVD Ripper
Head over to WinX DVD Ripper homepage and click the "Free Download" button. Then, you'll get a zip containing the setup file, a free license key and activate guide.
Open WinX DVD Ripper, you can see it allows you to input DVD discs, ISO images and DVD video folder.  It also supports any old, scratched or new 99-title DVDs and the ability to save files in a variety of formats, such as rip DVD to MP4, MPEG, AVI, WMV, MOV, M2S and H.264. This allows you to take these files and put them on just about any device you can think of, even Apple devices.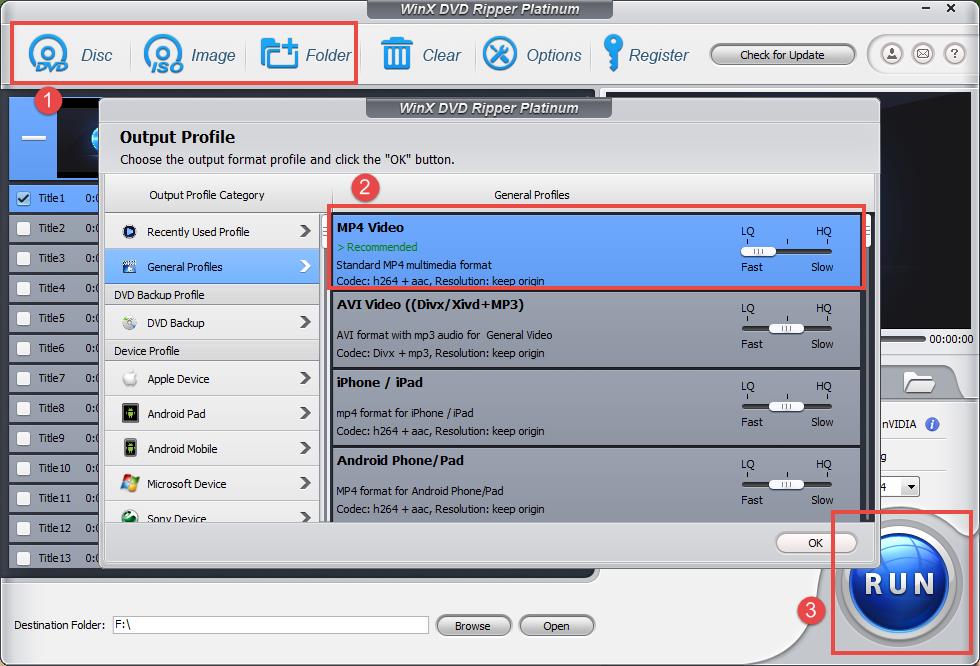 How to Rip DVD to MP4 with WinX DVD Ripper?
Step 1. Open WinX DVD Ripper and click "Disc" button to load your DVD
Step 2. Choose "MP4" as output format. You can also choose AVI, MKV, MOV, MPEG, MP3, etc.
Step 3. Click "Run" to start ripping DVD to MP4.
Using WinX DVD Ripper is a snap, too. All you do after purchasing and downloading the software is insert a DVD, choose from one of over 350 built in profiles to rip the DVD and press "Start". That's it. Now, if you are more tech and video savvy, you can choose to review the options and settings and tweak them to your preferences. For those of us that are not so savvy, but still want to add some personal touches or just a few helpful features, you can easily turn on subtitles and even do some editing and cropping of frames.
A question that may be floating in your head may be, "how does WinX run so fast and still create nearly flawless clones of the DVD?" Answer is, it uses level three hardware acceleration with Intel QSV or NVIDIA CUDA GPU to encode, process and decode the content from the DVD to your PC. This maximizes processing speeds while maintaining quality, all at a turnaround time of about 5 minutes!
If there are any asks or wishes that I could share, it would be to maybe rearrange the layout of the displays to declutter it. I found it a little difficult to find things with so many lists and options and data presented.
Quick copies with quality results make WinX DVD Ripper a front runner in DVD ripping programs for the PC. I highly recommend you take advantage of their free trial period to see if it's a good solution for you.