Games are an intrinsic part of mobile phones today. Various gaming apps are available on the iOS platform. You can create your own kingdom and visit various other kingdoms created by your friends, relatives and other people. Also, you can track your progress every time you make a new move. While moving to your friends' kingdoms, you can take along with you various gifts, buffs and other items. This is just like real life, isn't it?
A kind of story telling game, this game is loved by all, be it boys or girls belonging to any age group. You can also create your rivals, just like the people in earlier times used to do, and then fight with them, similar to the battles held during ancient ages.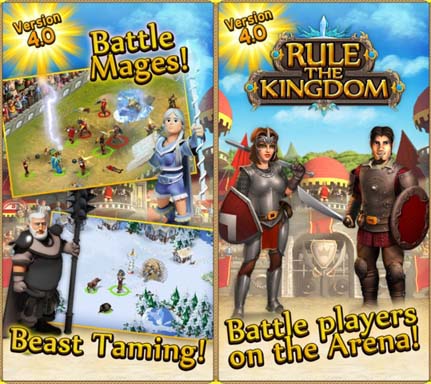 Rule the Kingdom is a truly adventurous game. You have various customization options available by which you can design your character according to your needs and requirements. Also, you can provide a particular kind of training to your warrior band. Once in a while, you would need to save your empire from the evil, and this is where you really enjoy the game. You can join as many groups as you want and fight battles as many times as you want.
At other times, you would need to build homes for people belonging to your empire, such as workers and others. Also, you would need to produce goods so that people living in your empire could consume them for their own good. Whatever you do, you just have to keep in mind that it should strengthen your empire, be it farming crops or feeding your subjects. The motive of the game is to strengthen your empire only. There are various kinds of empires available, such as desert empire, Forest Empire and others. Earn reputation in various regards by doing welfare of the people in your kingdom. You can also craft new items.
This is an amazing game no doubt, but there is a drawback that has prevented this game from reaching sky limits of popularity, this is the large size of the game. The game could not be opened on some of the phones and iPads. Also, there are various updating options available, even when all the updates are installed; users find it difficult to open the game.
With some improvements, Rule the Kingdom has the potential to rise over all the other apps in terms of popularity. Developers are also dedicated towards improving this game somehow. Quality and graphics of the game have been improved a lot ever since its first release. Download it now and start playing! You are going to love this game.