The first-person shooter or FPS is one of the most exciting and popular videogame genres. Over the last couple of years, many big names in this genre, such as Call of Duty, have launched their mobile versions. These games offer an action-packed and highly immersive gameplay, and often a realistic battle simulation. The latest addition to this list is Sniper Combat developed by Bringold Technologies. If you had always wanted to be among those heroes who like to blast terrorists down to a pulp, then get your trigger-finger ready for this ultimate FPS. What's more, the game is available for free on Google Play and doesn't demand enormous free space in your phone storage.
Sniper Combat has the same objective as other FPS games: you go on a mission to kill your opponents while saving your own life. Despite having pretty decent graphics, the game itself is quite simplistic. On the home screen, you only see two options – Campaign and Settings – and a piece of suspenseful background music greets your thrill-seeking brain. In the settings option, you can see the game controls or adjust sensitivity and smoothness. You can also choose the graphic intensity and frame rate from ultra, high, medium, or low.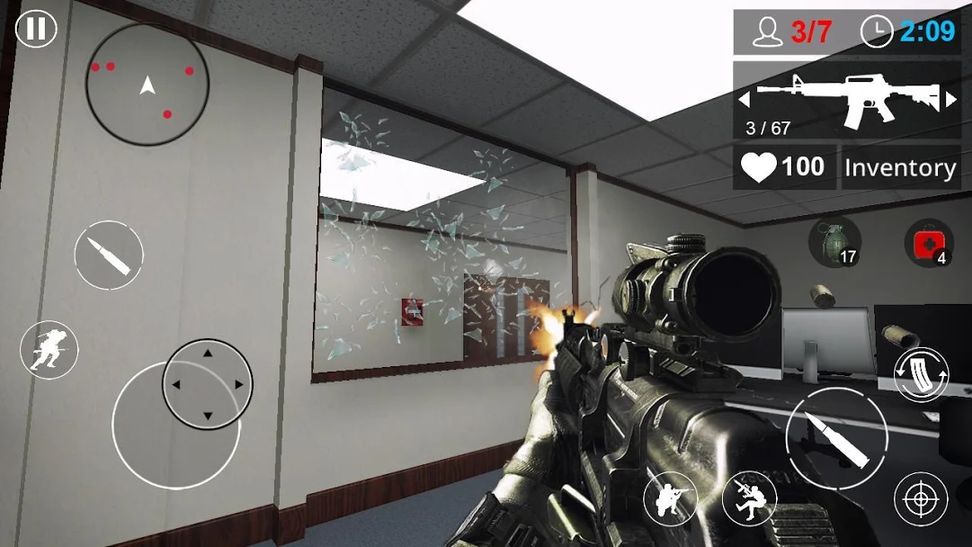 All the action in Sniper Combat takes place in the campaign mode. As soon as you enter it, you can see all the available weapons and gears. A high-definition image of the weapon, along with its statistics such as fire rate, accuracy, damage, reload time, and so on, is visible on the screen. The list of weapons is impressive: it includes MP5, M416, AK-47, Sniper Rifle, among others. The gears include a knife, grenade, and first-aid kit. The attention to detail is honestly admirable when compared to other games in the same segment of small-size FPS.
In the beginning, you get an MP5, grenades, and first-aid kits. You can unlock and buy other weapons and gears as you progress in the game and earn money by killing your opponents. There are two Episodes in the game, each having 100 missions. To make the gameplay more challenging, the developers have added a time limit in every mission. If you don't kill all of your opponents within that time, you lose. Sniper Combat will test all of your reflex skills and the ability to focus. The controls are similar to CoD, and a small radar on top helps you in locating your enemies. While the graphics and sound may not be as sophisticated as in Call of Duty or PUBG, they are astounding given the small size of the game.
Although it was fun and challenging, the game seemed a little monotonous after playing for a while. One reason is that there is a clear lack of diversity in the battleground arena: there are only two episodes, each featuring only one location. No online-multiplayer mode and frequent ads are other reasons that you may find it a little annoying. But the good thing is that the game is completely free, with no in-app purchases either. There is an option to watch short advertisements to earn more coins.
While there is definitely some scope for improvement, I thoroughly enjoyed the high-quality graphics and its realistic sound of firing guns. With two hundred challenging missions, the game is quite extensive too, and keeps you engaged for hours. If you crave for some adrenaline through your veins and fantasize about donning those military fatigues, then download Sniper Combat right now and enter the battle arena.