Sure, I love to travel-who doesn't? But unlike some travelers, I prefer to ditch the expensive tourist traps in exchange for a more authentic visitor experience. When I travel, I like to hang like a local. After all, I didn't spend thousands of dollars on airfare and accommodations to eat in franchised restaurants or to browse for artifacts in a commercialized shopping center.
I want to be whisked away to secret hideouts, specialty kitchens and to observe the natural phenomena that are native to that region. I want to drink in the dive bars and to dine in cozy, laid-back kitchens. I want to chill with the citizens who live there, and I want to support the independent business that helps to sustain that particular economy.
As adventurous as this sounds, there is one major challenge to my lofty plans; I wouldn't know where to find these miraculous places! Because as much as my heart wants to be one with the people, I am not a local. And while I am proficient in Google Maps and know how to read a compass, I also don't want to spend my entire vacation getting lost. Luckily, this is where the GettinLocal app comes in.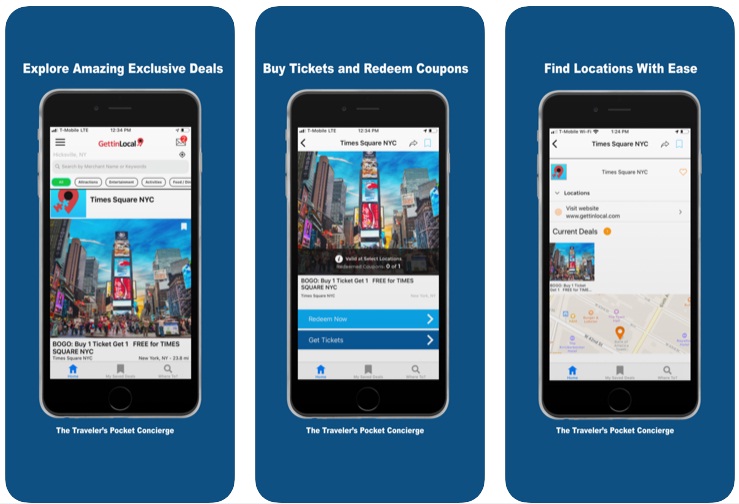 GettinLocal is a 'pocket concierge' for sorts of voyagers, from day-trippers to weekend warriors to business travelers. The app creates the ultimate resident experience by connecting the user to local business, many of which may not otherwise be advertised in your hotel brochures.
This app also notifies the user of exciting deals and exclusive offers. This is an impressive feature because it helps promote independent businesses to foreign visitors. As a traveler, you can also sample the fruits of their labor on a budget.
Upon downloading this app, I was pleased to discover that the free version is all you need. As a vacationer, I prefer to save my money and put it towards my local escapades, then spend it on app subscriptions.
Overall, it's pretty easy to use. After inputting your location or a geographical region that you would like to explore, the home screen offers a search engine, which includes the following options: Attractions, Tours, Entertainment, Activities, Food/Dining, Bars/Nightlife, Shopping, Services, and Favorites. You can also hone your search by typing in a particular keyword of an item you are looking for.
The interface also offers cool, promotional videos of select companies where you can find out more information on how to book or redeem a promotional offer. Once you find an item, you are interested in exploring, click on the image, which will take you the company's website. From there, you can research the business photos and hours of operation, and you are also provided with a map.
Other features of this app include a chat window where you can receive messages, and there is also the ability to adjust your notification settings. You can also be notified if there are nearby bargains when a merchant that you follow posts a new deal.
The downside is that there seemed to be a minimal amount of featured attractions during the time that I researched this app. I am chalking this up to the fact that the app is still new. I hope that more merchants decide to register so that I, the curious sightseer, will have more choices to explore. I should also mention the interface itself is a bit outdated. Hopefully, as this app gets updated, it will offer a more modern and eye-catching design.
Ultimately, I welcome any travel tool that makes my vacation easier to navigate. Like me, I am sure you prefer to spend more time getting local than getting lost, and with GettingLocal, you will be on the right track.