Thousands of games are released into the Apple store each day, but every now and then, one game changes the equation on its head. Space Sports Goaly Moley has turned out to be one such game since its release. In essence it is just a mobile soccer game. But Goaly Moley differentiates itself from other soccer games in more than one way. Developed by Planet Toccer, Goaly Moley has wielded its charm over many gamers throughout the world.
The whole game of Space Sports is set at the fictional ZaZa galaxy. In this game you have to face mole like intergalactic creatures instead of human opponents. Rules of the game are pretty simple. Weave your way through the maze of opponent defense and score against Madu the monster. You start from level 1 and work your way up the ladder as the challenges become harder. Your score is posted in the global high score list for all to see.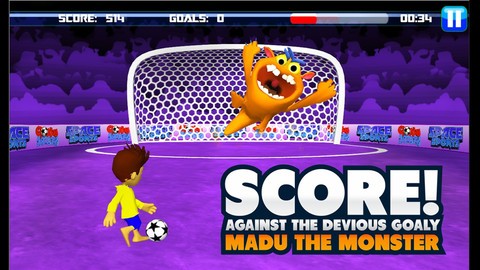 Lovely 3D graphics, crisp design and display and fluid gameplay are hallmarks of Goaly Moley. The game is optimized for iPhone 5 but it supports a lot of iOS devices including the older iPhone 3GS and iPod touch. The game lets users choose a player of their liking, change its looks and appearance and also the jersey color. Players can also put their name as the player.
The game has a global ranking system and it is providing some real life bonus to its players as well. As per the developers, the winner of the first Space Sports tournament to be held from 15th April will win two tickets to London for U.E.F.A. Champions League final on 25th May. It is going to be an all expenses paid trip. If that sounds interesting, check this out; the developers have planned to release all sorts of sports games in the Space Sports franchise such as Basketball, Football and Racing. Winners of those championships are supposed to get tickets for finals of mega events like NBA, Superbowl, and Monaco Grand Prix.  It is no doubt a novel bonus for players and a unique endeavor.
Since nothing is perfect, even this cool game has an issue or two. Being very rich in graphics, the Goaly Moley runs slow or crashes when running on older iOS devices despite developer claims of full support. This is a critical bug the developers have to fix in the upcoming versions or else the game risks losing a large number of subscribers.
The game is available for free at the iOS market. It is only 53 MB in size and should be a great experience for all players. So download and play away!