Imagine a breezy Sunday evening. After a heavy lunch, you are relaxing on your extra comfy couch, with no work to do. You take out your smartphone and randomly start going through the chats with your friends. You cannot help but wonder how a series of silly errors and autocorrect mistakes had made you look like an idiot on several occasions.
Some people hold their phones in a single hand, while some use both. Some use their index finger to tap, some use both thumbs, some gesture typers, while the rest just use the predicted words. Irrespective of what category you fall into, the fact is that we all have fingers that are too big for the small screen.
There are only a few mobile apps that go above and beyond to cater to people with various typing styles. And we are proud to say that we are that one in the million. Let us start with a very silly typo example
Dan: Can't wait to meet you latet today.
Dan: Latet
Dan: Later!!! OMG. Me and my father finger
Dan: Err.. Fat finger.. lmao..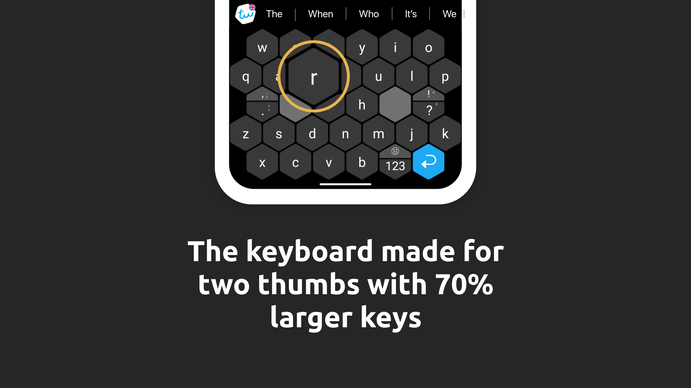 If your smartphone has-ever or is-still making you look like a not-so-smart person, then Typewise proudly presents you "Typewise Custom Keyboard – Big Keys, Emoji & Fonts", that is custom-made to meet your requirement. Instead of the age-old QWERTY, QWERTZ, and AZERTY keyboard, its customizable keyboard offers you various themes, fonts, and enjoyable emojis.
The patented honeycomb layout provides 70% larger keys that help minimize typing errors by a whopping 80%. Carefully designed with bigger keys for Android and iPhones, this app will make you fall in love with it instantly. 
Features
Swipe up to capitalize a letter. To delete it, swipe left, and to restore it, swipe right.
As you keep using the keyboard, it predicts the tone of what you are typing and suggests accurate words, ultimately aiding you in completing your sentence effortlessly. The smart autocorrect is as simple as that.
While other keyboards in the market prompt you to grant access to your calendar, contacts, stored files, GPS, and what not, Typewise Custom Keyboard runs locally on your smartphone and does not require any additional access. What you type is considered 100% private and not communicated to the cloud. What you type, stays with you. Trust us.
As mentioned earlier, the bigger honeycomb keys reduce the error probability by 80%, making it more comfortable to type. 
You can also choose from the 40+ languages available. With Typewise, you can chat in any language you want with ease.
Having gone through the features that are tailored exclusively for you, all you have to do is download the app from the store and enable the keyboard from your settings. Typewise has a mode for your tablet too. If you have any queries, Typewise's tutorial will come to your rescue. With Typewise Custom Keyboard installed in your smartphone, trust us, there is no room for errors. The number of languages offered might seem limited and cannot be regarded as a drawback, considering the other wide range of features offered.
Typewise will innovate the way you type on your smartphone and make you part of a next-generation community