Are you planning on continuing your education by taking classes at the collegiate level? Ready to go, but having a hard time figuring out how to get started, or where to go? Benji Buddy can help. Benji Buddy offers students the chance to crunch the numbers BEFORE they go back to school, something that can help save students thousands in student loans, not to mention the all-too-common mistake of coming out of school with a degree, into a field that won't pay their bills.
Benji Buddy helps students attack the dilemma in three key areas. The first key area is through the selection of a potential career. Students are given the opportunity to pick from literally hundreds of potential careers, and their average starting and median salaries. The career section is broken down into categories, to help students from becoming overwhelmed in the early part of the search.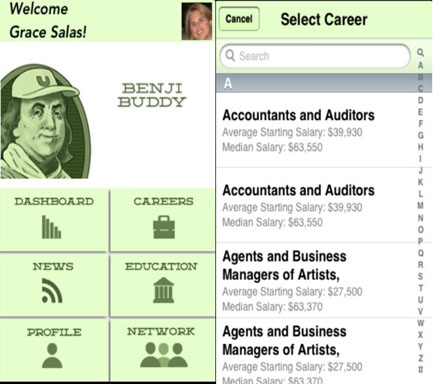 Second, Benji Buddy helps students to select a school. Students can add a large number of schools, including community colleges, technical colleges, state and private institutions and even ivy league schools. Included with these school listings are their graduation rates, though some are missing and reported at 0%, as well as information on their in-state vs. out-of-state tuition rates, location and website, in case a potential student wants to learn more about the institution.
After selecting the school, the student can then crunch the numbers. Higher education institutions often include expected costs of living, in addition to their tuition, in their cost breakdowns. These numbers are included here, but are also editable, based on housing costs on campus vs. off campus vs. at home, or a student's transportation budget. After entering these figures, or leaving them as estimated by the institution, the student is taken to a 'Financial Help' page, where they can begin adding in grants, scholarships, tuition savings plans and other aid, to get a net price for their schooling. After that, students are given the option to add in student loans, as well as outstanding student loans, to understand their total scholastic debt outstanding after their program.
Finally, the student is shown their total debt vs. expected income, plus an estimate of their loan payment and their debt to income ratio. In addition, Benji Buddy graphs this information, showing the student's projected debt over the course of the next 14 years. After the first four, the number rises, reflecting the first four years of debt accrual, plus the next ten years of debt repayment, as opposed to the potential salary earnings during that time.
However, the app only grows on four years of accrual of debt, while some college programs, such as those to become doctors and professors, have students in school for six or eight years, and can't be factored in here. In addition, it doesn't take into account the sometimes higher cost of tuition for these post baccalaureate programs.
Overall though, Benji Buddy is a solid way for students to begin crunching the numbers for college. The benefit of comparing careers with schools are unique to Benji Buddy, since there are very few opportunities to do so without some of the research skills that aren't taught until students are inside these institutions. Benji Buddy packs the added bonus of helping students begin to plan for their payoff, as they can anticipate the amount of time it'll take them to pay off student loans after leaving.