Doc Vault is a useful app for your iPhone for protecting your documents and media files. Even when your phone is unlocked, you can keep your documents secure and locked. This app is independent of the phone locking system in your iPhone and secures the files you want to keep protected. Whether it is pictures, music files, movies or any other important document you might have in your phone.
How does the app function? It is simple. The app will prompt you to keep a password, be it numeric or graphical. Once that is set, you will have to provide an email address for communication. Now every time someone tries to access your data on your phone, he or she will be asked for the password. On failing to provide the correct password, you will be sent a mail for the wrong attempt. Likewise, you will be kept informed of every wrong attempt of password input. Along with the information of wrong attempt, you will also be sent the GPS coordinates of the location where the invalid entry of password has taken place.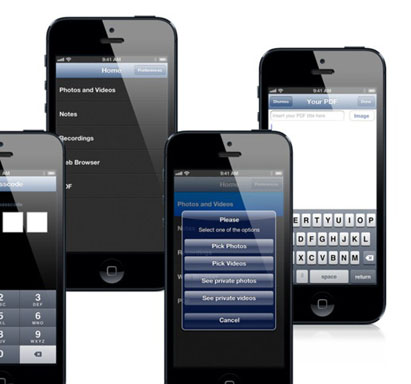 The app, Doc Vault is optimized for protecting all sorts of private data on your phone. If your phone is not with you, or if you have misplaced it, your data will remain safe due to the security of the app. Moreover, your browsing history can be saved and protected from others using your phone.
However, I have come across the issue of the phone hanging while inserting the password. The phone hangs and the data becomes unavailable to you for some time on this app. Also, if you have set a graphical password, a single mistake in the movement of fingers will be considered as a wrong attempt. Thereafter, a mail will be sent to the configured mail address with your picture. This might sometimes slow down proceedings.
Doc Vault is compatible with iPhone 3GS, iPhone 4, iPhone 4S, iPhone 5, iPod touch, iPod touch (3rd, 4th and 5th generation) and iPad. Usually the app requires an iOS of 4.3 or later. Doc Vault is optimized for iPhone 5. It is available to iPhone users at a price of $0.99. The version 1.4.0 occupies a space of 8.2 MB in your device. It is made available to you by the developer, Power App GmbH.
The app also allows you to create pdf files that are secured for your use. Doc Vault makes it easy to keep track of your data and you are informed every time someone tries to access your data. It is useful to keep a backup of your confidential information. You can hide your browsing history and keep your phone protected!