Do you need to manage your business events and keep track of your meetings? Do you need to set reminders and get notifications for your business meetings? Or do you wish to add private notes to your events to help you prepare ahead of them? If you have a running business then your answer is "Yes".
Irregular scheduling is an actual trap that people fall into, businesses especially. Many businesses suffer one loss or another simply because they are disorganized and fail to plan a proper work schedule. Meetings get canceled, Prospects don't follow up, sales don't go up and business is failing all these happen because you have not been able to master the art of organizing your business and proper scheduling. Keeping your business on track requires accurate time management and a properly organized schedule.
The Calendar.AI app is the right app to work out your schedule, plan your meetings ahead without having to send long boring emails, and put your business on track with the right timing. This app offers a variety of things that will help you to work with time when it comes to handling your business. Its features range from regularly telling you what day it is, to linking you up on your Zoom or Hangout video call meeting.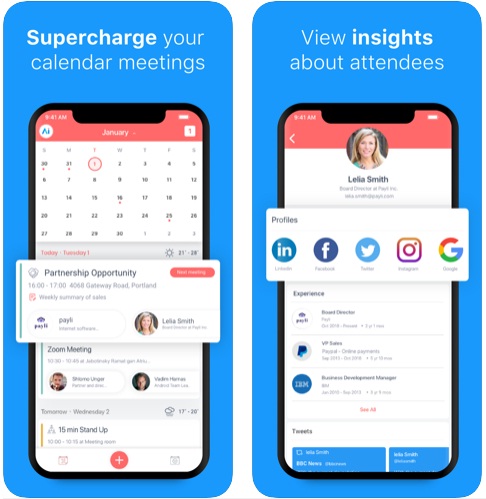 The Calendar.AI offers a special "meeting scheduler" where you can put in the days you are available to work and your availability hours, and a scheduling link will be created for you to share with the people you will like to have a meeting with. Pretty easy steps right? Also, if you have difficulties typing in the emails of your guest because they are too long or you just don't remember it then you are looking right at the solution. This app has access to the email addresses of people who have recently contacted you.
They are your suggested guests. With one click you have the email of your guest and with another, you are sharing your link and scheduling a meeting. With this meeting scheduler, you can save up to 2 hours of your time. This app also provides you a "meeting poll" where you can propose multiple time slots for your meeting, and all your guests have to do is pick a preferred time that way you can work at their convenience too. While creating your meeting on the Calendar.AI app, you have various open options like adding a location for the meeting, adding a conferencing service, and also Invitee questions where you can set out questions that you may want to ask your guest during the meeting.
The Calendar.AI also offers a premium service where you won't have to search the web before every meeting, as the app will provide you with meaningful insights about the people and company you meet including their social media profiles, company news, and up-to-date company data so you can have a better meeting.
Having an app that can organize your business schedule is underrated. Get the Calendar.AI app today, organize your meeting schedule, and save at least 2 hours of your time. I can assure you, it will be totally worth the hype.