The face of communication has changed immensely over the last decade with the advent of the mobile phone and its continual climb in computing power. Back in the day, mobile communication consisted of a pretty large device compared to what we are now accustomed to, but it packed a powerful punch in terms of accessibility and mobility.
Today, we don't have to say a word when we communicate. Instant messaging is the way to go when you need to shout out news, or exchange a few thoughts with someone. You can even send to a single recipient, or to a group. However, what you send is not always viewed by just your recipients' eyes.
Most IM apps do not protect the information they transport for you. However, there is one app, called ccPing that allows you put locks on individual messages so you know the only person who will read that message is the one you invite to a securely-defined chat session that you create.
The app is very easy to use and offers many neat features. Once downloaded, you create an account using your iPhone number. Go into Profile and add what you want to share about yourself. Next, to engage in conversations with others, you must build up your contacts list. You can either give the app permission to view and import your iPhone contacts, or you can opt to add them in manually. I chose the manual option, because not all of my contacts have ccPing. I basically only added those friends who were ready and willing to use the app.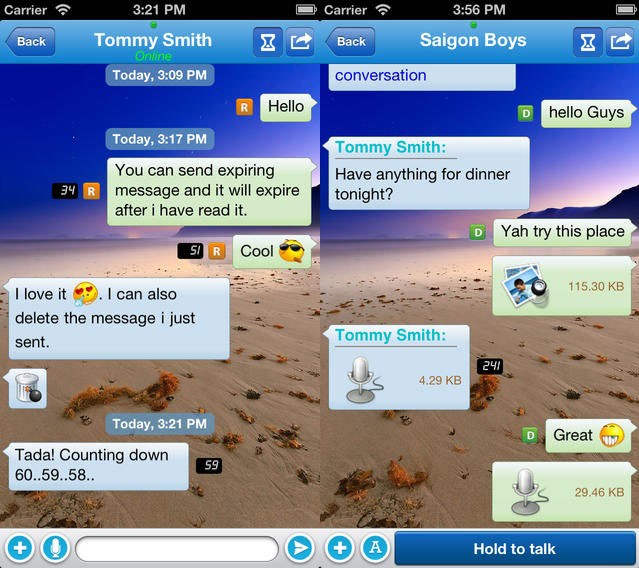 Once you have an account setup and a few contacts defined, you are ready to chat. Chatting can be with or without security. If you wish to secure a conversation, you must create as so. In this case, you will provide the chat session a title and passwords. You also indicate who the recipient is. You must then share the password to this recipient in order for him or her to receive encrypted messages and be able to decrypt them.
If you do not wish to use the secure message system, there is another way to make things somewhat secure. One of the neatest features of ccPing is the ability to destroy messages. You can do this manually, or you can set up the app for automatic message destruction. In auto mode, messages are destroyed between 60 to 300 seconds after being delivered or read. You choose the timing. It almost adds a spy-like feel to the whole experience. You can also securely send photos if you wish.
The only feature I feel the app lacks is the ability to secure an entire chat message. It seems to only secure or lock individual messages. This would make things easier and makes chats go faster. Yet, as is, this is a very nice way to message in a secure way; and know that unintended eyes will not get hold of what you have to say without your permission.