Music has always been a master entertainer for all ages and guitars have successfully lured the teenagers for long. With the introduction of the Coach Guitar App, this fantasy has nearly become an obsession. Now almost everyone can learn to play guitar in a short span of time with a mere tap of a finger.
Without any music theory or a tablature, a person can learn to play guitar quite fluently. When you open this app, the screen shows these options- My Lessons, Libraries, Help and Settings. Being an amateur, you are expected to go for the Help option initially. Here all the required information regarding the usage is provided. The black fret-board represents your virtual guitar. Then you will find an animated video consisting of a palm with colored fingertips. These colors indicate the chords you need to play on your guitar. There are corresponding colors provided on the strings too. This shows you where to tap the fingers while playing. This app ensures both hand playing techniques.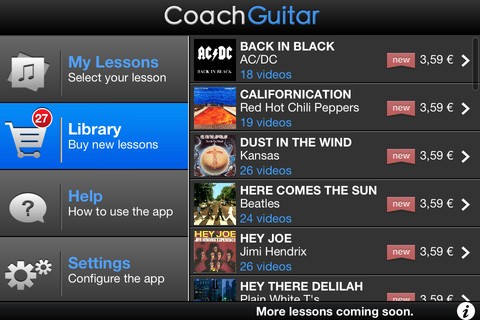 The My Lesson option enables you to synchronize through the pre-loaded songs and choose one amongst them to play, and thus enter the coaching procedures. The learning tips are easy and catchy as Coach Guitar facilitates step-wise learning opportunity for the users. Each song includes a certain number of visual recordings which helps the users to master each and every verse of that particular song. There are two beautiful songs available for free in this version- Stairway to Heaven by Led Zeppelin and Wake me up when September ends by Green Day.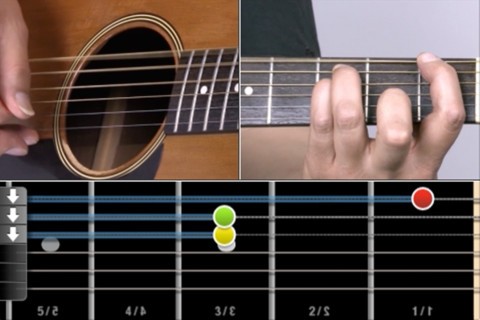 The Library option might seem to be the most favorable and easily accessible option for most users; it almost looks like a playlist too but unfortunately, this library only manages being an option where you can store songs you want to play only after you buy them for a good price. But there are few popular tracks pre -loaded in this version for you to learn to play too. The Settings option is as usual, meant to configure the app as per the user's wish.
Apart from the pay-and-learn concept of the Coach Guitar App, the developer Boris Douarre has committed another flaw- you can only learn to play the songs which are available in the Library to buy. No random selection of songs is allowed here. If we do not consider the above two limitations, Coach Guitar is a fair choice for any music lover around the world. Unlike most apps, it is available in more than two languages and helps you to strum the chords like a pro. The reviews have mostly been positive as the interesting graphics and tunes manage to keep the users engrossed in it.