Getting started in fontgram is quick and easy, just like an application of this category should be. fontgram intends to do one thing and one thing only – allow users to add text to photos with basic editing features and if you decide to try this application out it's because of the ability to add text to photos, fontgram can impress well. Besides the basic editing features like adding color, resizing, and shadowing, the bulk of your time will be spent experimenting with the dozens of font options readily available. If you don't see any fonts you like you can download several font packages, side note, I personally did not find the need to get more fonts, the selection was more than enough for what I wanted to do, but it is nice to have that option available.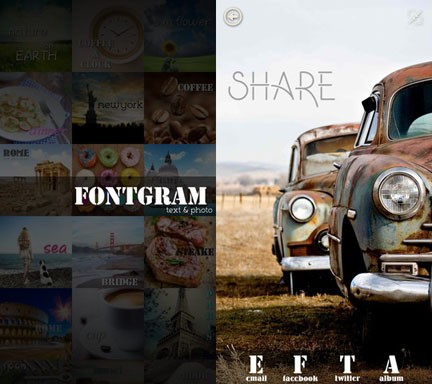 You can upload your finished edited photos and quickly share them on all the popular social networks, heavyweights like Facebook, Twitter, and Instagram are integrated. You can also add the photos to your library or send them out the old fashioned way with regular email. The bottom menu bar makes it easy to share it on each network, so there is no need going thought a long winded process of uploading pics to your favorite social media sites. From the menu you are also able to save the photo to your album or send them out the old fashioned way with regular email.
fontgram is a very well designed application. The interface looks good, and is simple to use. This is important as the design and ease of use is what separates these types of apps from each other, and in this case fontgram succeeds. One complaint I do have is that there isn't much to do besides edit and add text to documents. I understand that the idea of this application is the simplicity, but I do wish there was some outside the box feature to entice me to use it more often.
Performance wise, I did not encounter any difficulties. I'm running iOS (6.1.2) on my iPhone 5 and I did not experience any lag at the menu or crashes. The app was very stable, and at a little under then 17 MB it is not a memory hog so I do not foresee any issues in the future.
fontgram is priced accordingly at $.99 cents so if you are on the fence about trying this app out don't be too nervous since it won't require you to break the bank open. Overall fontgram has a lot of potential and it has all the necessary features, clean design, and the ease of use that allows you to jump right into editing photos in no time.
I really enjoyed my time with fontgram, its inexpensive (currently $.99 cents in the apple app store) and fully optimized for the iPhone 5 and iPad retina (iPad 3 and 4) and relatively simple to use with an easy to navigate menu and interface. fontgram requires all apple devices to be running at least iOS 5.0 in order to properly use this application.