The world today is experiencing an ongoing pandemic that has affected our regular way of life. In most countries, large gatherings have been prohibited to prevent the spread of the coronavirus, and this has made most communications move to a virtual space. Offices, schools, religious organizations, and many more have been affected by this change.
There are a few platforms where co-workers can share information and communicate with their colleagues, but they are quite expensive because they cost a monthly fee for every user. In most cases, they required the installation of a dedicated server-client. Well, if you are a business owner looking for an easier means of communicating with your workers and business partners this period, stick around. This read will interest you.
With the LAN Messenger application, you can now share messages and pass across information among your coworkers instantly. You read that right! The LAN messaging application works without internet connectivity, and that is the least of what the app has to offer.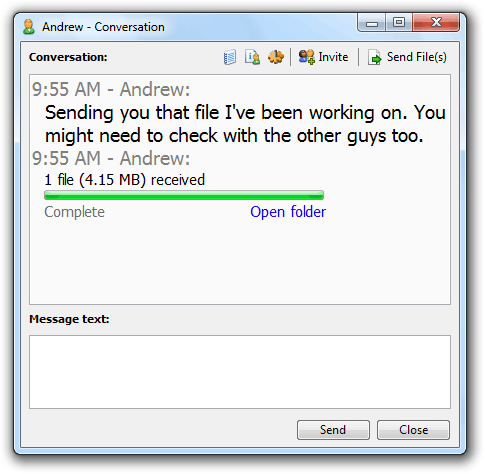 Here are some of the perks the app has to offer. This local messenger allows users to send a variety of messages including file transfers, like texts, videos, documents, links, pictures, and many more. The app supports group chat rooms, broadcast messaging, remote desktop access, and individual messaging between just two users for privacy. You can also create a user group where you can arrange your co-workers, and sort them up according to their departments or job titles. The chat app also ensures that your message history is safe, and you can always view it through the app's built-in 'History Viewer.' 
The Network Messenger for teams is easy to use the app. The setup is quite simple, and it can be done in a couple of minutes. Once the app is installed, a list of all your co-workers will show up in the user list. Why use this app today? Not only does it make communication with your co-workers easier and faster, but it also makes it secure. The app provides data encryption with AES-256 and with works only with your company's network. The app also has a powerful remote assistance functionality that was developed with the use of Microsoft Desktop sharing technology. So, you can be sure that your company will be protected from the prying eyes of people outside your organization. Also, the app isn't open to regular online and internet firewall ports. It means that your company's business is safe from hackers and IM worms. For more information on how to use the app, it has an extensive help system that covers all topics to assist the users.
LAN Messenger for teams is the right messaging tool for your company's communication, and you can download it on your Windows, Mac, and Android devices. To get a head start and explore the perks of this app before pitching it in at your next company meeting, check it out here. Enjoy a secure and instant method of communication in your company.