The role of effective communication in an organization cannot be over-emphasized. It is all the more crucial in the field of medical professionals and others working in a hospital. Miscommunication has often been cited as the biggest challenge in the medical industry that can have drastic impacts. But all of this change with the revolutionary app called Medical PDQ. The app is available on Android and can be downloaded from the Play Store. Although you will require a subscription, Medical PDQ offers a 7-day free trial to explore all the functions before you pay.
The app has been developed by those already working as healthcare professionals who, through experience, have understood the significance of communication in this field. Medical PDQ takes an enormous burden off the shoulders of healthcare professionals. Staying up-to-date and scheduling different tasks such as notifying your colleagues about an emergency, and so on, are important functions but mundane and frustrating, nonetheless. This is where the Medical PDQ app steps in to not only ease your life but also streamline these tasks to make the organization more efficient.
Whether you are a doctor, nurse, or assistant, you can take advantage of Medical PDQ in several ways. As a doctor, you can send or receive emergency notifications and responses, create teams for surgeries to stay up-to-date with them, request consultations, and much more. Medical PDQ has cast the net wider by offering unique functions to other medical professionals as well such as surgical assistants, CRNAs, vendors, and so on. Doing so has allowed the app to create an integrated platform that allows for better care for the patients.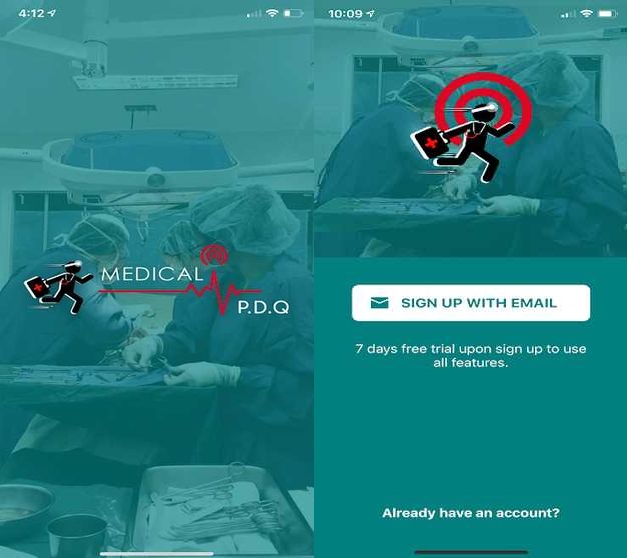 Medical PDQ allows even patients to create an account on the app for better communication with their healthcare provider. Patients can talk to their doctors or other healthcare professionals by sending a direct message from the app itself. There is an option to place a video call too, thus bringing in the concept of telehealth to the patients' fingertips. They can also receive notifications for their appointments to OPD or surgery, which allows them to plan their medical requirements. Even during hospitalization, miscommunication between the patient and the staff is a source of frequent inconvenience. All of this can be easily avoided with the Medical PDQ app.
The subscription plans are pretty affordable and are slightly different for healthcare professionals and patients. For the latter, they are a little cheaper. Medical PDQ also offers a 3-month and 6-month package which makes it even more affordable. Once you exhaust your 7-day free trial, the app renews your subscription to the monthly package unless you cancel it.
With a lean-looking interface, Medical PDQ is fairly easy to get acquainted with. The home screen features all the essential functions and does not require the user to maneuver needlessly through it. The app complies with the Health Insurance Portability and Accountability Act or HIPAA thus ensuring a high quality of standards and reliance. A few glitches in the app such as sudden crashes need some fixing though.
All in all, Medical PDQ is an indispensable app that performs a crucial function. Effective communication with the help of this app can lead to better coordination among healthcare professionals and eventually ensure better care for the patients.