Missing a single dose of medication can prove disastrous if you are suffering from a serious ailment. The medicines prescribed by your doctor must be taken in the precise amount and at the right time for them to work favorably and with fewer side-effects. MedManage is an app that can help you keep a track of your medicines and avoid the unnecessary problems of a missed or an overdose. It allows you the benefits of improved technology by dramatically reducing the probability of error in manual logs and excel templates.
MedManage is a free app available on the Play Store that helps you log and manage your prescribed medicines with its medication list, calendar, and a tracker. You need an email ID to sign up, or you can alternatively use your Facebook or Google account. The best part is that MedManage uses cloud-computing to create your medication list so you do not have to worry about losing your data or carrying additional notes if you travel. The app follows a two-pronged approach to ease your life by storing your medical information in the active/inactive prescription menu and providing dosage reminders for your timely intake of medicines.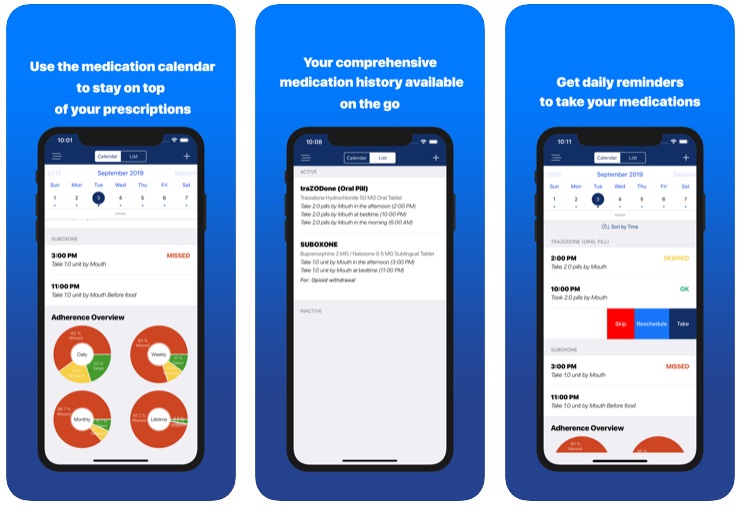 It is fairly easy to set up the app and doesn't take much time. All you have to do is simply enter the name of the drug, prescribed dosage, and the intervals it has to be taken along with any other indications you deem necessary. After saving these relevant details, the app will send you reminders for taking medicines and you can log your progress. The digital log of your adherence to the regimen can help you avoid adverse impacts and also provide insights to your healthcare providers about your well-being. MedManage can be used for personal benefits and also in case you want to take care of your loved ones with its caregiver sharing option. You can add more than one profile in the app to add the medication details of the respective patients. Consequently, this app has applications in areas such as geriatric care management, contraceptive pill reminders, opioid withdrawal, and so forth.
Privacy and security of medical records and data are of utmost priority for the patients. MedManage app allows you to set a passcode or fingerprint for accessing it. No personal information is required and email ID is solicited only for communication and allowing you to use their cloud service or web portal with your synced data. It doesn't sell your data to any third parties except in certain conditions, with your permission, MedManage may anonymously sell your data to research institutes studying your condition. The app boasts of following the Universal Medication Schedule (UMS) to provide you a reliable way of successfully adhering to the prescribed medication. MedManage also has a pro version for only $10 per month and gives some added features like priority support and early access. With its simple interface and a pleasing blue-colored theme, the app appears quite user-friendly too.
Except for a few issues such as being unable to find your drug on the list, you are unlikely to run into any significant issues while using the app. Even for this, you can contact the MedManage team to ask them to update their records. As a medication tracker app, it does what it says very effectively and can bring about a significant change in the way we manage our medication regimen.