Sleeping at the correct time, waking up at the correct time, being fresh when you wake up and having proper sleep patterns have always been difficult issues in everybody's life. MotionX now brings out an app to bring you the perfect solution to all your problems. The new app called Sleep answers all these questions to get you the perfect sleep that you would want to experience. This app is the result of seven years of research on biomechanics, focusing on human motions. This app combines the effectiveness of sleep patterns, human motions and heart rate regulation to get you peaceful and sufficient sleep.
It provides you a cent percent solution to a number of problems. First of all, it detects your heartbeat using your fingerprints and the camera of your iPhone. This helps to track your heart beat when you sleep. Keeping your heart beat in check, this app can present graphs of the record of your heartbeat. With the record of your resting heart, this app in your iPhone can determine your sleep patterns. It can find out your times of deep sleep and light sleep. It puts you to sleep by playing your favorite music, and this music goes off on its own, just when you fall asleep. In this way, you can monitor your sleep cycles.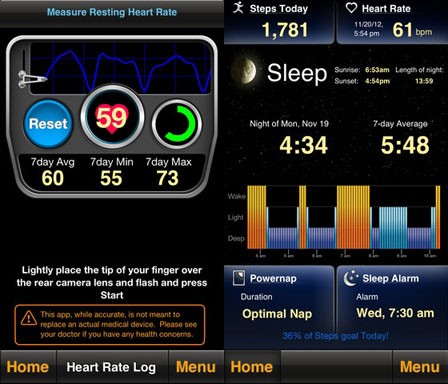 The app comprehends when you have had your full cycle of sleep and wakes you up when you have had the optimum amount of sleep and wakes you up with an alarm tone that is your favorite in all the music pieces in your iPad. This intelligent alarm sets off when you have had sufficient sleep and can be snoozed or stopped at your desired time. Moreover, this app keeps you active throughout the day. You can keep track of how many calories you lose and in case you remain idle for too long, you will be energized through an active alert. This regulates your body activities throughout the day.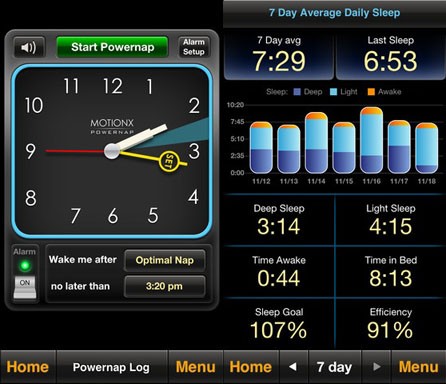 So, with this new app, sold by Fuller Technologies, you can experience the optimum amount of sleep. You can wake up fresh in the mornings and have an active and energized day to make it perfect. This app is compatible with your iPhone, iPad, and iPod Touch. It requires a minimum of an iOS 4.3 or even higher. This app is made available to you at a price of $2.99. It is suitable best for your iPhone 5. This phone, however, cannot be placed on hard flooring like a wooden surface when you sleep, since the app catches the sound of the vibration of the wood and records it along with your resting heart beat patterns. For this reason, an inappropriate result is obtained. So the user should be careful while placing the iPhone before going to sleep. Also, if a GPS system is continuously used along with this app, it leads to a loss of battery life.
With Sleep by MotionX, the user can be totally comfortable while sleeping and wake up fresh in the morning to have an active day.