For iOS users familiar with applications like Flipboard, an RSS reader that turns your feeds into the digital equivalent of a glossy magazine, curated content provides an interesting conundrum. On the one hand, wading through the ever-growing sea of digital content to find the few pieces of media that actually interest you can be daunting and time-consuming. Content is sometimes restricted to certain sites and full access will many times require a paid subscription. On the other hand, many sites that claim to grant access to a wide array of content inevitably lack access to something you didn't know you wanted until you found out you couldn't have it. Netflix doesn't have television shows that are currently airing. Hulu requires a paid subscription to view older episodes of your favorite series. So, you end up splitting your time between apps that seek to bring everything to one place, and the web at large where you have to search for the specific content those apps inevitably leave out.
Squrl is a video search engine that allows you to view and search for videos on YouTube, Netflix, and Hulu, as well as other online content providers like CBS, CNN, and the Wall Street Journal. While using Squrl to search for videos from content providers whose apps you probably already have running on your device may seem redundant, Squrl hopes to endear you to its platform by virtue of its channels which provide curated content.
Since you need a Hulu and Netflix account to access their content on Squrl, users probably won't be deleting those accounts anytime soon. Still, having everything in one place can be nice. Search "Family Guy" and Squrl will pull up everything. Free clips from YouTube, interviews with the creators from Vimeo or Daily Motion, and full episodes from Hulu and Netflix. Play a video and you can still browse the other clips that your search pulled up, or open the sidebar and scroll through videos in an entirely different channel.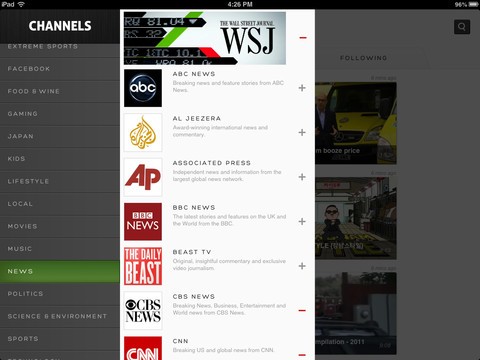 But this is where Squrl's focus on curated content becomes a bit of an issue. This app works a whole lot better when you browse through the content it offers rather than trying to search for specific videos on your own. Family Guy clips from YouTube had ridiculously distracting, and infuriating, banner ads for Hulu, where the clips must be originally hosted. Want to watch a full episode on Netflix? Well, now you have to leave the app to login to your account in Safari. Of course, why go through all of that when you can just use the free app which, while not without its own peculiarities, is obviously the better choice for viewing Netflix content?
Unfortunately, this issue doesn't even begin to sum up what's wrong with the Squrl app. While clips from E! Online loaded quickly and played in beautiful high-definition, as of the time of this review, clips from Funny or Die loaded without the video, playing only the audio portion of the clips. Videos from some channels were in high-definition, while others played at a terrible resolution even though the bandwidth was the same. And without the option to set the quality of the video, users with slow connections will have to wait for large high-definition videos to load, while users with great connections will have to watch low-quality videos from several of the channels for no apparent reason.
Whatever Squrl was trying to bring to the already saturated video player app market is overshadowed by its few simple, but significant, flaws.