You can order a ton of magazines to flip through and browse a multitude of websites and apps for the most recent news and trends in fashion. But, why do all of that work when you can keep up on fashion trends, window shop all you want and even sell your own pieces all from the comfort of your mobile device? Download Sooqista and you will see what I mean.
Sooqista is a fashion and art marketplace app that brings together e-store owners and shoppers in one venue. Setting up an account is easy. The app is free to download and all you have to do is supply your mobile number. All other details can be added later. Once you are "registered' with Sooqista, you can get started.
If you are going to be a shopper, you are now free to browse all you want and explore items of interest that you normally wear or venture into new territory and experiment with something new. Like what you see but need to stew on it for a bit? No problem, mark it as a favorite and come back to it when you are ready. If you are looking to learn more about fashion trends, check out the Blog area. Store owners and fashion experts alike have a lot to say about their liens and fashion trends. Stay on top of what's trending and make better shopping decisions that are in tune with what's current in the fashion world while staying true to yourself.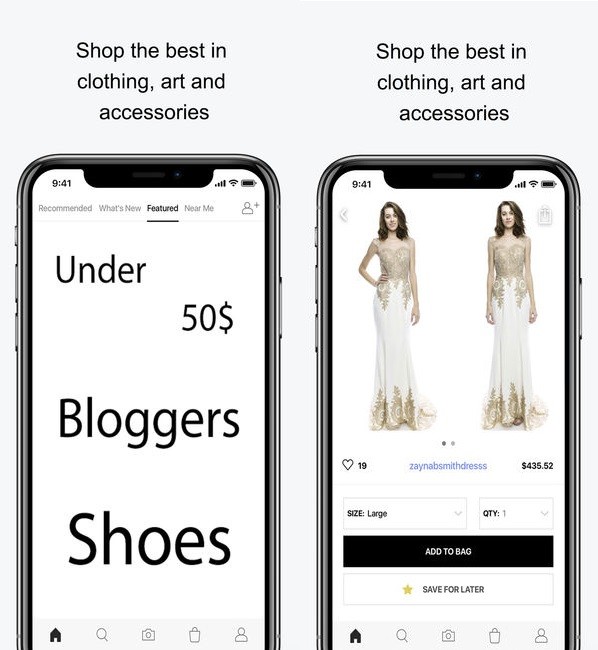 If you are going to be a seller, which does not prevent you from being a shopper as well, follow the simple steps to setup your online souq, another word for open air marketplace, and start selling. The app does a great job of making it easy to create your shop and upload the items you are ready to sell. Uploading items along with images, descriptions and pricing is straightforward and simple. Once you have your items uploaded, the app takes care of the transactions when users purchases items allowing you to focus on your customer's experience.
In another area of the app, buyers, browsers and sellers can enjoy the blogs. Anyone can upload a blog and share their thoughts. The blog area also supports a search function so you can look for what interests you or you can select general areas of interest.
What would be nice to have is sharing some of this fun through social media and possibly getting even more participants on the app. More marketing means more sales!
If you are looking for a new shopping experience, I highly recommend Sooqista. You will definitely find something different every time you open it up.