I got the game from Google play store, and it was compatible with my android device. The direct download was quick and uncomplicated. While the game includes an instruction page which explains the various icons and buttons of which there are quite a few and I had to revert back to the instruction page a few times before I interpreted the references of each button.
There is a navigation panel at the bottom of your screen that shows your battery power, shields and cargo and etc. I have not yet figured out how to utilize all this information.
The animated graphics and distinctive sound are great and include distinctive voice over warnings such as enemy within range and radiation warnings. These warnings also come up on the top corner which is great, especially when the sound has been turned down. I like that the developer took into consideration all the gaming scenarios.
There are a number of settings which include choosing to sign up to rank or merely engage in the game without registering. If you sign up, you back up and restore the game, regardless of where you are on the level. There are few languages to choose from, again this is a nice touch from the developer. The controls are clear and easy to use, You can also choose from the settings where you want the controls situated on the screen. You can choose to utilize them on the left or right, Nice touch!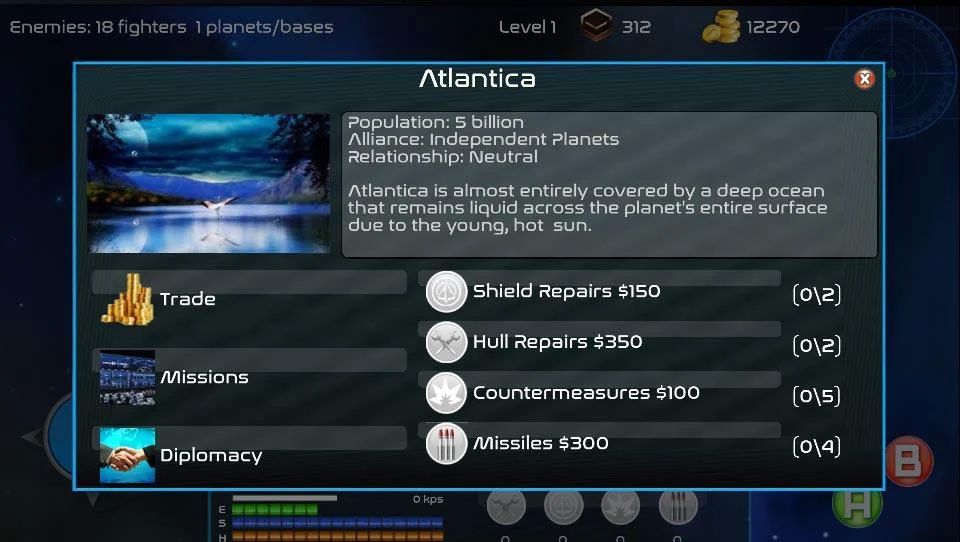 There are in app purchases for crystals which can be converted to coins. You can also collect crystals and coins throughout the game. These are used for upgrades, weapons, and extras like shields and more which allow you to kit out your ship. I am not entirely clear on how you collect the coins. I think the description is extremely vague and does not touch on the variables of the game. The developer has gone to great lengths to describe the icons and buttons but I think the same would have been great about how you progress through the levels. It might be there, I just never across it.
You start off with a number of credits and surprisingly enough, even though I bombed out quickly in my first few tries, my coin level stayed reasonably high.
There is guiding system/radar in the corner that navigates your direction and shows exactly where the enemy and space rocks are. The red icons represent enemy ships, so you know from which direction they are coming at all times. Space rocks offer another source of cargo, using your laser, you can collect cargo.
You can personalize the game by setting up a username and password. This will additionally allow you to back and restore the save game at any time. Once you register, you can also compare your rankings to other players in various categories and by country. That is a genuinely notable addition and takes the game to another level. From what I understand, you can trade your cargo but I was not able to determine how to perform that.
The game description gets you into fighter mode and while it is an absolutely awesome introduction to the game, it is also vague and unclear. When I started playing the game I was expecting one thing but got another, although what I got was way better than what I was expecting, it focusses on the galaxy and missions but not too much on what player can expect to engage in.
Stellar Patrol has in-app purchases, but I made it through 5 levels without even needing to look at the cost of purchasing other crystals. The developer has been pretty charitable with credits. It is a great game, and I am sure that the space and star trek enthusiasts would love this, I think that once you have made it a few levels in, the game will become a bit monotonous.