There's a lot going on in the world today and keeping up with it all may mean gathering information from a variety of sources, which means tapping into and receiving news feeds from multiple sources. While most news sources have their own app which, at an individual level, is easy to use, it can get overwhelming and time consuming to open and read each and every news app to stay on top of everything. That's where Lastly News can help.
Lastly News is an Android app that provides one place for you to access all of your news. It packages up the feeds in simple and easy to use framework, so all you have to do is open it up, choose what you want to read and get to business.
The app currently offers news feeds from a variety of sources located all over the world. From the US (CNET, FOX, TIME, NYTIMES, SPORTS ILLUSTRATED, WIRED and more), from the UK (BBC, Telegraph, DailyMail), Spanish News ( ElMundo, Marca, ABC), French (LeMonde, Sputnik France), and the list goes on.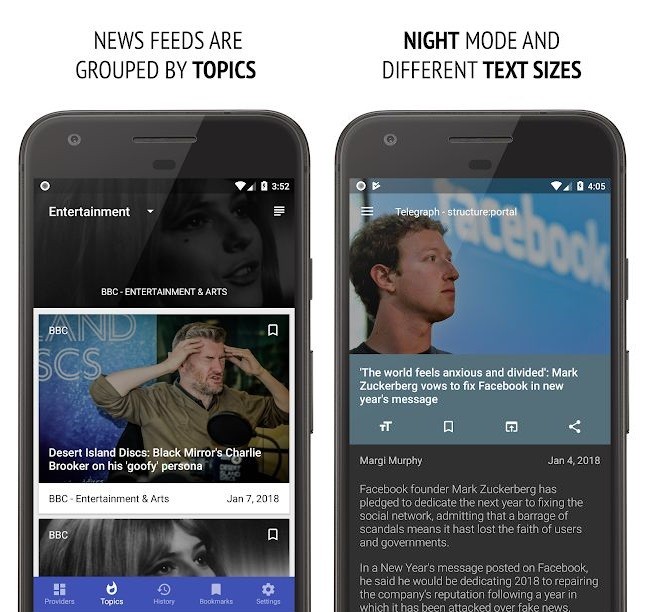 It's free to download and offers in app purchases for premium services which allow you to use the app free of ads. It's easy to find the feeds you are interested in and save them to your list. Then all you do is tap on it to view it.
The app is broken down into five areas: Providers, Topics, History, Bookmarks and Settings. To start, you will most likely head over to the Providers to search for and add the news feeds you want to view. If you are interested in viewing new based on topics, you can use this area of the app and this will bring up news from all feeds, whether they are on your list or not. History will show what you have added and removed and changes you've made. Bookmarks allows you to build your list of news feeds and save interesting news articles so you can find them easily. Settings lets you personalize your app so you can use it in the way that works best for you.
The app also features an image gallery which provides you with instant access to all images that accompany the news feeds.
What is neat about Lastly News is that you don't need the internet to read the news from anywhere in the world. From here you can change font and text sizes and choose day or night reading mode, to make consumption easier on the eyes.
I really could not find anything I did not like about this app. I would like to see a little more information about how to use it either in the Google Play or in the app itself. It would make it easier to know all of its features up front, so I can take advantage of everything.
Until then, I plan on sifting and sorting through my news feeds using Lastly News, to save time and to get to the heart of what I need to know about.