Finding efficient medical help has always been difficult. However, over the past six months, the issue has become particularly important as we experience the global Coronavirus pandemic. The pressing threat of this contagious virus combined with busy hospitals and clinics has created even more obstacles when it comes to scheduling appointments, confirming surgery dates, and providing medical advice.
However, there has been an exciting new development in the world of medical apps with the help of Agile Surgical Assistants LLC. This innovative team of therapeutic authorities was created to assist medical professionals and their patients in providing excellent, secure, and budget-conscious care through easing the burdens of increasingly overwhelmed medical institutions.
Misunderstandings that can occur in scheduling medical appointments are a worry for patients and hospital staff alike. However, the excellent team at Agile Surgical Assistants LLC has created an app that assists in strengthening the communication between health practitioners and individuals who are seeking care.
With a patient's privacy being of the utmost importance, this advanced device maintains the security of health information in an electronic form through compliance with the Health Insurance Portability and Accountability Act (HIPAA).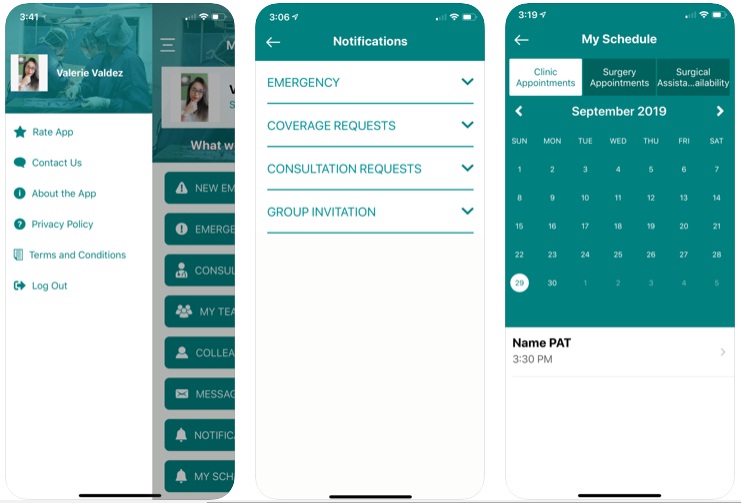 Upon downloading this app, I found that signing up was a smooth and straightforward process. Knowing that the app followed the HIPPA Act, I did feel secure knowing that my information was secured with a password of my choosing. I also liked that this app offered a variety of registration options; in addition to patients, surgeons, anesthesiologists, nurses, dentists, and other medical professions can also use this app.
In my review, I noticed that there is no free version of this app, but those who sign up can receive a 7-day trial in order to test it out for themselves. However, I should note that a user must first commit to choosing one of three, affordable subscription plans before gaining full access to the features.
Upon confirming my subscription, I was then led to the first screen that provided a variety of exciting features: a Video Consult, Messaging, Notifications, and a Schedule.
The video consult feature is, by far, my favorite characteristic because it allows the user to enjoy the virtual experience with their practitioner or doctor. In considering the importance of isolation as we attempt to flatten the curve, this is particularly useful given the current social climate.
As I explored further, the Video Consult component provides a high definition camera and the option to mute, if required. This is definitely one of the coolest highlights of the Medical PDQ app. It's exciting to think that one could actually bypass the typical five-hour-long wait in exchange for an appointment from the comfort and convenience of home.
The Schedule option offers a calendar where the user can book both clinic and surgery appointments. There is also a Messaging option, which allows users to chat via a window, similar to Facebook Messenger. If you are concerned about your own medical security, this app offers a detailed privacy policy found at the top left corner of your screen.
The medical world is buzzing with excitement over this revolutionary application that is a beacon of hope during these unprecedented times. Through connecting medical professionals and patients, Medical PDQ makes communication and scheduling more efficient and transparent.  This application removes the frustration from scheduling appointments and obtaining medical guidance.