If you're looking for an app just to follow sports, you have about a thousand options. It depends to some extent upon which sports you most like to follow of course, but you get the idea: countless apps can present you with the latest scores, headlines, and highlights, and many can even stream live games or matches.
If you're a competitive sports fan, however, in the sense that you like to get in on the action, you might need to be a little more discerning. There are various ways of competing alongside your favorite teams and athletes, including fantasy sports, picking outcomes and even straight-up betting. Considering all of these possibilities, here are four apps you might want to take a look at.
ESPN Fantasy
The ESPN Fantasy app was newly updated last year, and is now viewed as one of the best fantasy sports platforms available. What was once a pure fantasy football app, it now includes multiple sports, as well as some of the other games that people play in order to follow sports more closely. For instance, this app is where you can now find the company's "Streak for the Cash" game, in which you pick game outcomes and attempt to build a streak of correct picks. The person with the longest streak and the person with the most total wins earn cash prizes each month (without any kind of fees).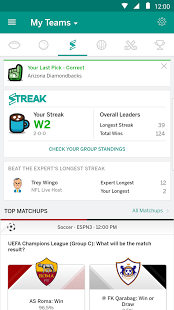 BlackType
BlackType by FSB Technology is a little bit different than the other apps on this list in that it's a straight-up sports betting application. Covering all major sports (as well as popular betting sports like horse racing) with up-to-date odds, it's a respected and trusted option for this kind of activity. BlackType is also known to be one of several prominent sports betting apps to offer free bets to new users, which can certainly be enticing. Free bets can take several forms, but generally involve matching deposits to give you a little bit of free money to make predictions with. Just don't get carried away!
DraftKings
Daily fantasy sports, or DFS, has become a very popular activity among sports fans and bettors alike. One of its perks is that it tends to be legal just about everywhere, including where ordinary sports betting is prohibited. And while there are several different sites and apps for DFS (and we'll get to an alternative in a moment), DraftKings has emerged as the de facto leader. On this platform you can pay entry fees for all kinds of competitions that allow you to draft athletes for a given day of competition. If your team performs well enough to land you in a certain range among the various competitors, you can then earn a payout. It's difficult to talk about amounts because there's a huge variety of entry fees and rewards, but this is the general idea.
Draft
Draft is actually another DFS app, but it was one of the first ones to emerge that differentiated itself from competitors. There are a lot of companies and apps that work more or less exactly like DraftKings does, only on a smaller scale. Draft has followed a different journey. It rose to prominence partly after raising $3.5 million in an early fundraising round, and has now established itself as the leader in snake draft DFS. A snake draft is just a style of drafting players, believed to be more fair and balanced than the "auction" style mostly favored at DraftKings. Draft boasts that players simply have better odds of winning money via this format, so it's easy to see why a lot of sports fans who like to compete while they watch are trying it out.