The Voluntary Refund Value Cars app is a one of a kind app that gives users a chance to own a new or used car or truck worth 25 thousand dollars. The application is available on both the Google Play store and the Apple Store, and it is free to download. When you first download the application, users will see a screen that helps you become a bit more familiar with the application. You swipe past two different explanation screens, and then you are presented with a choice on the third screen. You can click to watch a YouTube video giving users further instructions, or you can move right past it and go straight into the application.
One of the first cool features about this application that is worth mentioning is that they run a promotion every Friday in which you can own a new or used car with taxes paid and 6-month insurance coverage. This is also a legal contest, so customers will not need to worry about any fraudulent activities. Some states are not allowed to participate in the contest, and they include Colorado, Connecticut, Maryland, Nebraska, Arizona, and North Dakota.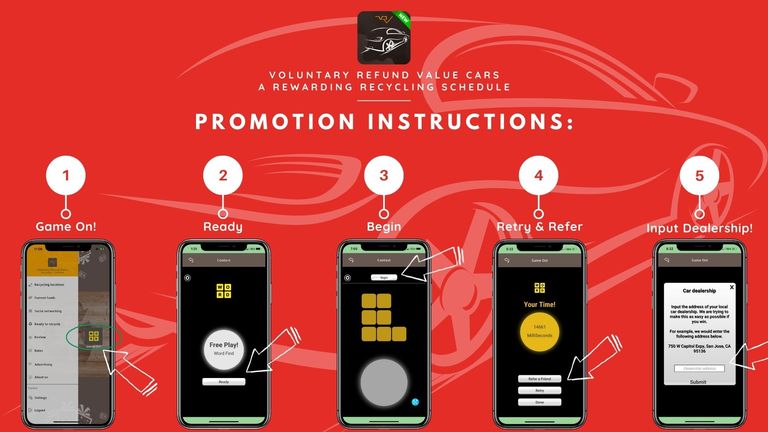 They also have an additional competition that is available every Friday as well, but this competition comes in the form of sweepstakes. This is how the sweepstakes works, users who downloaded and signed up for the application has to complete a puzzle as fast as they can in a certain amount of time. The application records that time and then does a couple of technical actions in the background to align the times up with other users across the United States. You don't need to worry if you experience any lag or if your internet connection is slow because they ensure that it will not interfere with your final time. The fastest person who finishes the puzzle wins a car or truck of their choice. The second through fifth fastest times wins a cash amount ranging from $125 – USD 200.Drawback.
One negative about this application that the developers should look into tweaking is the interface of the application. Having a car in the background is okay, but the overall look and feel of Voluntary Refund feel outdated. New applications are going live every day, and most of them ensure that their application interface is extremely strong with a modern feel and look.
To conclude, the Voluntary Refund Value Cars app is not a bad application to have on your mobile devices. It allows users to win a car or truck, and the only amount of money you have to spend is $1. If you happen to get lucky and win a car on a Friday, they make sure that you have full details about the history of the car. This application has a lot of potentials, but the magic number is 60K. They need 60,000 people to pay $1 every Friday for the application to be fully effective.