One of the most difficult decisions for a mobile user is choosing the right application to download on their mobile devices. You have your social applications, work applications, travel applications, and gaming applications. With so many different applications to choose from, how do you even know where to start? Well, I guess you need to define the kind of game you are looking for, but most likely, it's going to be a game that will keep you interested and present you with a challenge. That is where Mindoo comes into play.
Mindoo is a trivia game app that stretches across age demographics ranging from 10 years old and up. The application is available for free in the Google Play Store, and its interface is very user friendly. What does that mean? A ten-year-old can download this game and easily set themselves up to start playing and explore the world of Mindoo.
The true essence of the game is to improve players' overall knowledge across a variety of topics. Those topics include People, Miscellaneous, Sport, Art, Politics & Economy, Sport, Geography, Transportation, and traffic. Once you choose one of these topics, you also choose the type of game mode that you would like to play. The game mode options are original and shuffle.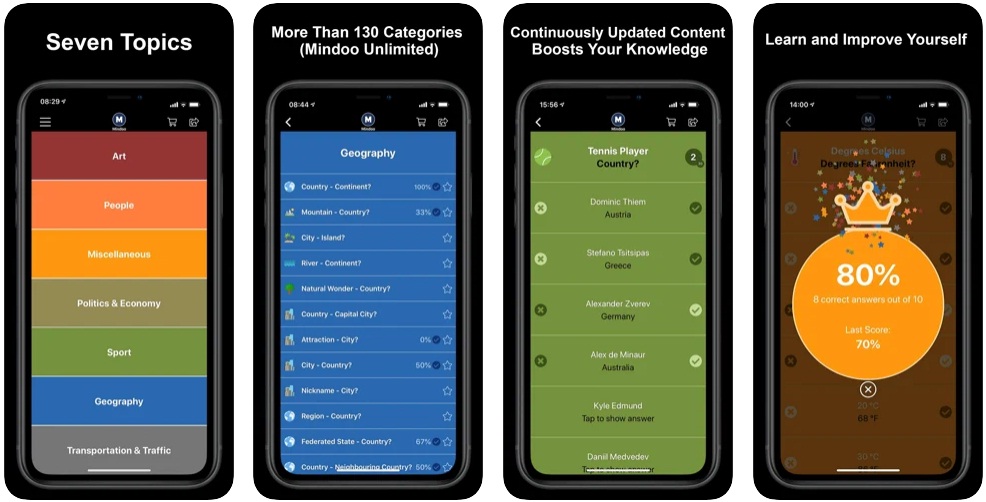 Mindoo is an app that does not need to be connected to the internet to work, and that is a feat that you should not overlook. There is a high percentage of applications in today's day in age that require users to connect to either Wi-Fi or their mobile network to use the application. This app leaps over that by allowing offline play.
One drawback of Mindoo is that there seems to be an issue with some of the subtopics that do not allow users to take the quiz portion of the game. When you select what would be the question and try to answer, the results appear quickly with no resistance, and that is something that the developers should investigate fixing.
There are two versions of the Mindoo application, the basic version, and the free version. The basic version comes equipped with 15 free categories, while the full version comes equipped with 130 different categories. The full version of Mindoo is $4.99, and users receive access to all topics. Users will also have access to any future topics that get put into production by the developers. For those users who feel like they will not need to purchase the full version, you can purchase individual topics for between $0.99 and $1.99 depending on the topic.
In conclusion, the Mindoo application is perfect for users who love to learn and build knowledge and competency in certain areas. Sure, it seems like it's a game on the surface, but you have to dig deeper to see the hidden agenda behind the application. You can play on the go, and you can also play with friends. Groups of people love to play trivia games when they are together because of their competitiveness and fun. Mindoo plays right into that statement because it has different topics, and it's worth a download.