AudiobooksNow is one of the best audiobooks app available on the Apple App store, which is gaining a huge popularity amongst its users. Having a selection of over 12000 books from every popular author, you would find every bestselling books and other popular books across various genres available here. With a great pricing policy where you can choose what kind of plan suits your need, and have them changed at any time of the month, this app turns out to be the most wallet-friendly app as well!
The ability to download audiobooks now and listen to them later is a great feature of this app. This makes sure you can enjoy your classics even when there is no network connectivity, WiFi or cellular. Alternatively, if you want to free up some space from your local smartphone storage, then you can always have your audiobooks streamed online. There is also a feature where you can resume from the exact point where you had previously stopped. You can also adjust the speed of playing the book, which greatly helps you when you are trying to learn a new language, or want to analyze some parts of the literature much deeper.
Also, if you have downloaded a book from a certain subscription policy, then changing the policy will not affect the number of books you have already bought or downloaded. Meaning, you can retain your library without having to spend a lot of money for maintaining it. Once you have bought a book, it is yours for the keeping. Furthermore, if you have an iOS based device and another Android device where you have the app installed, then you can download your book in any of the device and have it synchronized it with all other devices. This does not work if you are having it downloaded on the internal storage of your devices, of course.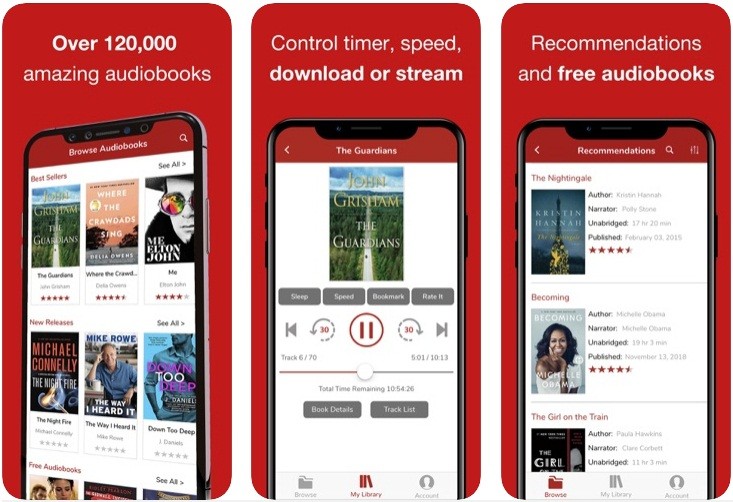 The user interface could have been improved probably, with the size of tiles being too small for someone's comfort. One might think it is done to accommodate more number of audiobooks per page, but often the books keep repeating in every page or two. However, a great thing about this app is the quality of recording. The recordings have no disturbances or any unwanted background noise and its quality is crisp, making it easily understandable. In some audiobooks, the volume of recording could have been higher.
However, it was odd to observe that even though there are a great number of classics available on the app, the number of works from Shakespeare seem to be lacking. Another annoying thing about the app is that it crashes after prolonged usage of more than an hour. This certainly isn't a deal breaker, but it gets annoying after a certain extent to restart the app all over again and resuming to read, as annoying as checking on the door every now and then while you're involved with the book because your heard knocking. So make sure you are using the updated version of the app every time.
Despite all of its issues, the customer service of AudiobooksNow is very responsive, and answers to your queries within a very short time. Be it payment, or downloaded books, or queries regarding subscription; you will always have your queries resolved by their representative.