Bingo Play is a fun game and an easy-to-play app for people above the age of 17. The theme of Bingo Play has a minimalist touch with various bingo games. Playing this exciting game lets players enjoy power-ups, rewards, and attractive graphics.
I loved the latest iOS update as it allows the gameplay in portrait mode with a much better responsive UI and overall cool user experience. The complex user interfaces also changed, so players can get on with their Bingo Play games and have unlimited enjoyment!
The new Bingo Play app has various exciting features, such as the app has number cells with player earning points and a portrait aspect of bingo cards.
The switching requirement between cards gets eliminated in the new update, and players can enjoy four bingo cards on a single screen. The player can win extra prizes via betting on each bingo card. It is another updated feature that proffers unlimited entertainment during bingo dauber. While playing the Bingo Play game, players can catch their luck up to four bingo cards or even more!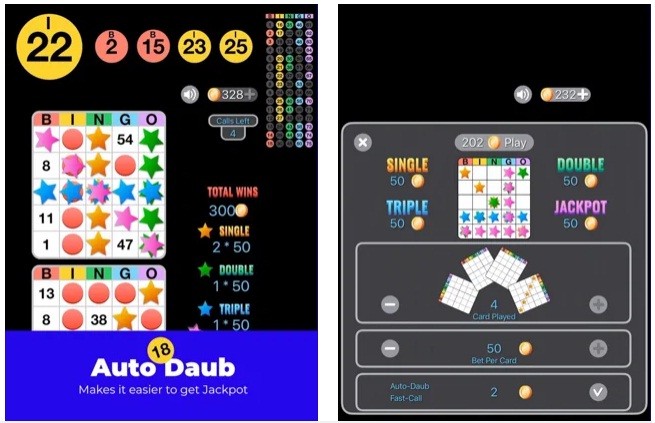 The game provides an entertaining, simple tutorial for those who are first-time players or new to the game. This tutorial is a helpful way to get the gameplay idea. In the Bingo Play game, players will earn daily bonuses and power-ups. These supplements will aid the players in finishing exciting quests.
In Bingo Play, players can select fast call for a smoother and faster gaming experience, or they can pick auto-daub for more fun-filled bingo playing.
The vivid and clear numbers with vibrant colors make the gameplay easy-to-follow fun. For silent players, the number calls turn-off feature is available for a seamless and non-distracted experience.
The Bingo Play is a free game app with limited advertisements. Because the game begins with a limited amount of free coins, and for more bingo coins, players watch these short ad videos.
Bingo Play is indeed an exciting and fun game app. It is an outstanding option to enjoy the free time with friends and family. After the new iOS update, Bingo Play becomes more engaging. There is one more notable thing to consider that Bingo Play has specifically designed for older players. And it does not give real prizes or real money in gambling. It is also important to understand that Bingo Play is an online game, and playing it does not guarantee future success in real-world gambling. For me, the standout features were the easy-to-understand tutorial, the great user interface, and the overall feel of the game. It is very enjoyable and I am sure anyone playing it would love it a lot and keep asking for more.