With so many brain and puzzle games coming out today, you'd think you've seen them all. Then Oasis Studios came up with Motivation. By all accounts, it makes use of a formula that is no longer anything new: navigating a ball through a grid-based environment until it reaches an exit, so you can move on to the next level. This addictive game requires a lot of planning and definitely a lot of strategizing.
Motivation operates in an environment of grids that vary from level to level, becoming more challenging as you level up. You have "Roland", a ball that you must lead across the grid towards the exit by rolling it. Sounds simple? Not quite. You see, moving Roland through the board can only be done by using arrows, each of them with only one direction. It will be up to you to lay out these arrows throughout the grid so Roland can move towards the exit. There are a total of 140 levels, so you're looking at 140 grid designs to work the ball through.
Playing Motivation is done by tapping on the screen of your mobile device. You have a combination of 8 45-degree-angle arrows that you have to lay out strategically on the grid, with the intention of using them to roll Roland along towards the exit. But there's a catch. You cannot expect to be able to use all 8 arrows to switch the ball's direction. You see, arrows pointing on the area behind Roland, or where it is headed, won't do a thing for Roland. This means that you can only use 4 types of arrows to switch directions.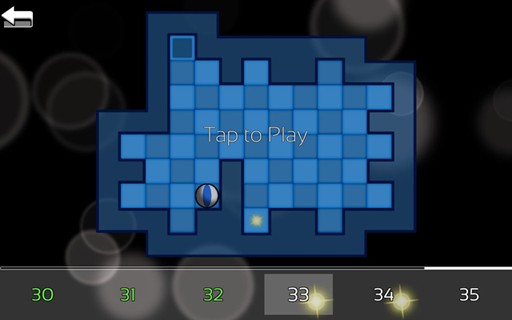 As you level up, you will be collecting Stars. There are also Achievements that you can stock up on and use in future levels, such as "Switch 'Em Up" and "Disposable", among others.
Everything about Motivation is simple – from the interface and the concept. There are no flashy effects to distract users from the true essence of the game, which is the logic-and-puzzle gameplay itself. Many users are greatly impressed at the texture of the game despite its straightforward design. What makes this game truly addicting, however, is how the challenge or difficulty of the puzzle is increasing as you rise up through the levels. And there are a total of 140 levels to go through, so you'll be motivated to complete them all (no pun intended).
Even the Sound and Music options are presented in a no-nonsense manner. That isn't to say, however, that it is visually plain and boring. You can even choose the appearance of Roland at the beginning of the game, employing different color choices to reflect your personality.
As mentioned earlier, Motivation boasts a simple design, so if you are looking for bursts of color and lively animations, this is not the game for you. Some people may find it visually unappealing because of the simplicity of its overall look.
Addicting and fun, Motivation is sure a great way to exercise your logical processes and have a rollicking good time while you're at it. If you enjoy solving puzzles mixed in with a simple yet very challenging game play, then Motivation is definitely right up your alley.