Games fulfil some of our needs, like becoming in authority, a rebel, or even childhood needs. As sometimes people get engaged to certain things without understanding that the reason for this immersion is, that those things help them satisfy some of these important needs, subconsciously. Front Runners is an immersive endless-runner style game, similar to Subway Surfers and Temple Run. The difference here is you get to run as a political candidate to collect votes and avoid scandals, angry mobs and even the Coronavirus. 
When you play a game or watch a movie, you feel engaged with the main character or the character you like the most. In other words, you get to feel what that character feels as a result of believing that you became him for a short period. Now the first thing a person feels when he plays Front Runners is that he is an authoritative rebel, whether the chosen candidate is the Warrior, the Cuban, or the Don, etc. He does what he wants, breaks the rules, runs away and avoids punishment.
Most kids are forced to follow certain rules that they don't like, so the need for freedom is commonly developed in humans. Now when people play Front Runners, they experience that same freedom they strived to experience but in a safe virtual environment. This is also the reason why so many kids love that game.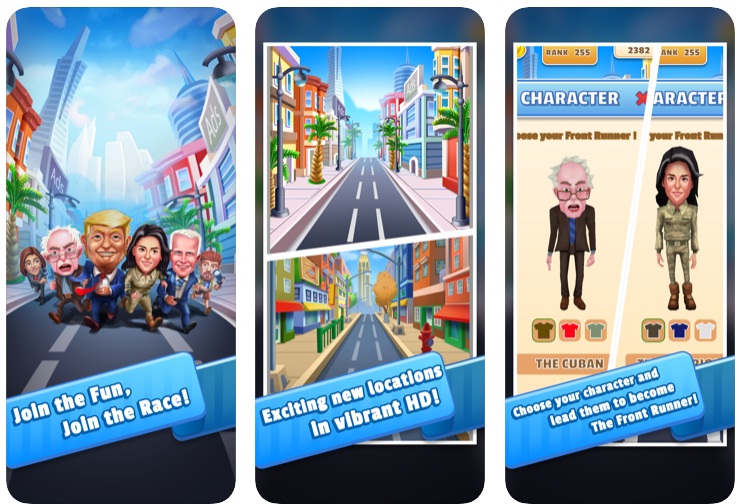 Front Runners allows you to race through California and New York in a vibrant HD environment. The game starts by tapping the touchscreen, while The Don (the game's starter character) or any other character escapes running, the player can swipe up, down, left, or right to avoid crashing into oncoming obstacles especially moving angry masses, Coronavirus, and barriers. By swiping rapidly as speed increases, more points can be fetched.
A crash results in a game over, but the player can collect various items such as coins, votes, score multipliers, jetpacks, and a suitcase of coins. A jetpack provides something like combustion by launching up the character, while a score multiplier multiplies the score. Some items allow the character to avoid collisions lasting about 30 seconds.
Such a game can always be your perfect partner while you are waiting for your wife to get ready, just bored and passing time, entertainment, refreshment or even without any reason too.
This app can be found in the App Store for both iPad & iPhone for free. It also allows the option of making in-app purchases and is rated for users 4 years of age and older. Although you sometimes have to purchase more coins by making an in-app purchase ranging from $0.99 to $3.99, this is an option that you can simply disable in your child's phone settings, if it is something you are not comfortable with.