Inspired by the world's best selling toy ever -the Rubik's Cube – the Lion's Sphere is a 3D puzzle that you can get ready to solve – in the palm of your hand too!
We all find ourselves stuck with a little free time, whether it be in some tiresome queue or just day-to-day breaks. These are perfect opportunities where you can pull out your delightful Lion's Sphere app and work out some trendy twisty puzzles!
Why choose to solve puzzles in your lunch break though? The benefits are actually astounding! Puzzles provide more than just entertainment, they improve our concentration and reasoning skills.
When we solve puzzles we seek out patterns, this enables us to think logically, thus enhancing our problem solving skills. Overcoming challenges in puzzles such as the Lion's Sphere, help us overcome challenges in reality. They sharpen our memory and cognitive abilities as well.
No signing up for anything, you just go straight to a neat tutorial and begin familiarizing yourself with the user-friendly controls. Dragging between the free space on your screen and dragging on the sphere itself will help to rotate your sphere and move the puzzle fragments.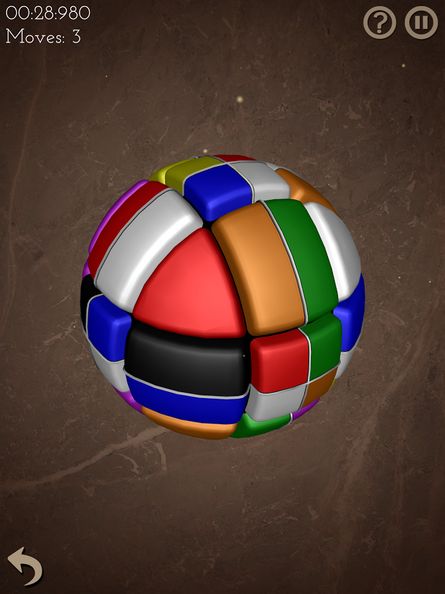 Helpful arrows show you where to locate the help and undo button. These buttons are useful for having easy access to an image of a solved puzzle and for undoing your wrong turns. The statistics button is on the menu along with the settings one.
Unlock your first two color puzzle and tackle it when you are done practicing in the tutorial. The two color sphere is designed for novices, so do not be afraid to download this app if you are a puzzle newb. After the two color sphere, you can wrack your brain with the four and eight color spheres.
Features
The graphics are of clear and high quality. The unadorned brown background is ideal for concentrating on the main visual. Looking closer, glowing spores on the background add to the calming atmosphere.
Mentioning a calming atmosphere, the music is soothing and will surely relax even the most strung out mind. If you would prefer complete silence, simply turn off the music in the settings.
You press play to start and that is it! Puzzles start off easy and get really tough –  Lion's Sphere caters for all puzzle fans. Controls are simple and user-friendly.
Solve spheres with players from around the world. Take on the eight color sphere and set world records! A timer is provided in the level so you can always keep track of how fast a solver you are.
The app does contain ads, and in-app purchases are available.
Games are usually played to provide some sort of enjoyment. By accepting the challenge of the Lion's Sphere you can gain the entertainment and exercise your brain at the same time! Sharpen your mind with Lion's Sphere today!