Looking for a new way to send messages? Tired of boring text that has no impact? If you want to brighten someone's day with text that says it all, then MAYU Animate is the app for you. MAYU makes it easy to create fun text messages, and sharing them even easier.
When you first download MAYU, you will be taken to a screen that allows you to create messages, add enhancements and send them on their way. The app has just one screen – it's all you need. It's simple. It's handy. It's straightforward.
You can opt in or out of sharing your device's camera, but I would highly recommend opting in, so you can send stuff you've done in the moment.
Here's the breakdown of what you'll see on the main screen:
Top of screen
Camera – take pictures and then use them as your background. You can even add a layover pattern in addition to the picture and text.
Plus Sign – select this to create a completely new message. Note that if you don't choose this, you will be working on the same message you last sent or edited.
Upload – send your message through your choice of social media apps. Choices include Facebook, iMessage, Twitter and more.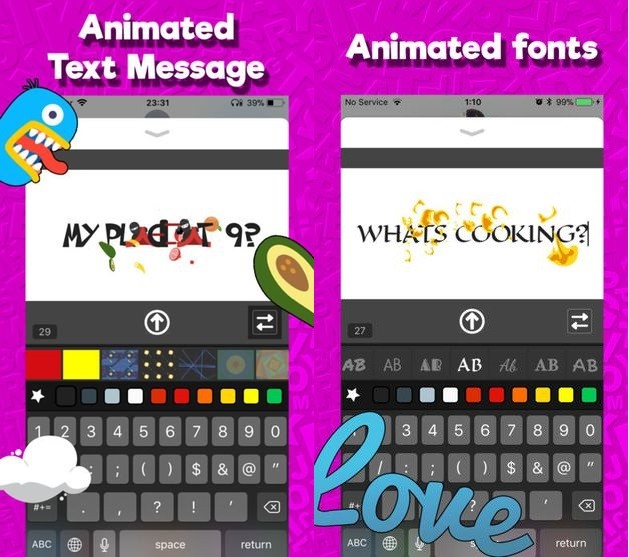 Bottom of screen
Create and edit your text. When you create a new message, you will get to type it in first. After that, the options you'll see here is the ability to change the font and coloring.
Add your choice of backdrops.
Add animation.
Choose colors in and around your message.
MAYU lets you play around with all of the options and then hit Play to see what you've created before you send it on its way. If you really want to test out your message, you can even iMessage it to yourself to make sure it's just the way you want it.
I really liked the option of being able to take a new picture or use one from your photo album and then do some crazy stuff with it. I was impressed with the different font styles and patterned overlays, as well. The color choices are endless and you can even fine tune hues to use colors that are exactly what you have in mind to make your message pop.
If I could request a change, it would be to add the ability to edit an existing message that you just started. I created one and wanted to use the same background and animation, but just change out the text – and was unable to.
Outside of that small hiccup, MAYU is an app that is fun to use and makes the art of messaging more entertaining.