There are a lot of apps out there that claim to help bring peace and calm to your life in a variety of ways. You can practice yoga, mindfulness, meditation, and more. While all options are related in many ways, the apps that provide them are not. They all provide the various ways to practice each type of exercise, but one provides a unique variety of practice sessions and sounds that cater to a variety of situations you are trying to alleviate or overcome.
That app is MindT – Meditation and Sleep. Yes, it comes packed with a variety of exercises for practicing mediation and nice collection of sounds to help you fall asleep. You can use it for yourself or even for a fussy baby you are trying to put down for the night.
The app is free to use, but also comes with a Premium version that opens up even more options for users. I would recommend using the free version for a while to see if the variety and types of meditation practices meet your needs and then make the in-app purchase to Premium. Even on its own, the app has much to offer. You can even use it without an account, which I found quite nice, but was perplexed as to why they would require an account if the videos and sessions could be run without an account.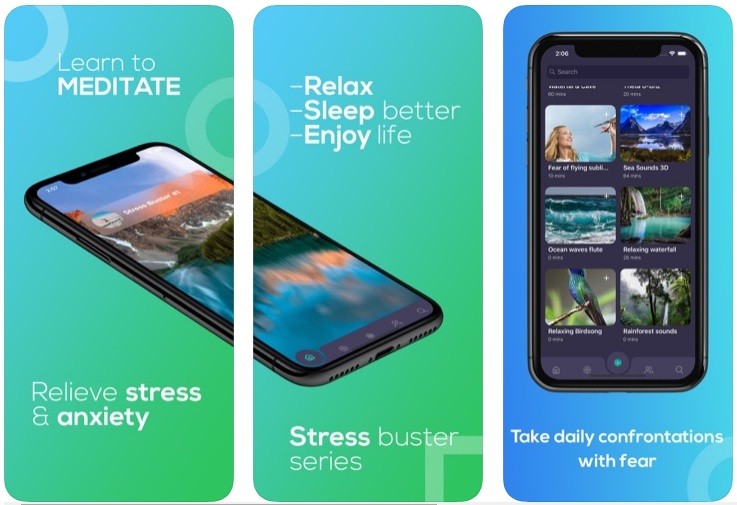 In any case, MindT comes packed with so many ways to find a meditation session or even find soothing music. You can head straight to the last icon (search icon) to look through all the meditation sessions and find one based on some basic keywords. This also works for the audio selections, as well. Audio selections include a ton of pieces to help you fall asleep, but there are many options to help inspire you, motivational, meditative and focus-driven sounds.
If you don't want to spend time trying to find something, select the Home screen. Here, you will find a daily video selection. It will tell you how long it is, before you start it, so you know how much time to set aside so you can complete it in its entirety. One thing to note is that the app allows you to download meditation sessions and music, but you can only do so if you have a Premium account. Premium accounts can be setup with monthly ($9.99), yearly ($79.99) or lifetime ($199.99) payments. But this gets you full access to exclusive content, no ads, new weekly content, in addition to offline usage (downloads).
One thing I would like to see is what the limitations to the app are if you do not set up an account. I was able to navigate around fairly easily without an account, so was not sure if the account was primarily needed if you were going to use the Premium version.
MindT – Meditation and Sleep offered a nice variety of options for guided meditation. There were sessions of all sizes, so I could fit in a quick 5 minute session at work when I needed it, and spend a peaceful 40 minutes in a pre-sleep session at night. If you need to bring some calm into your life and want an easy way to do it, consider downloading MindT today.