Photozeen by Wazzup Lab is a free iOS app that offers a game-like tutorial teaching better photography on your phone.  What is a game-like tutorial, you ask?  This app is a game and a networking outlet all in one, setting you up with photo-taking ideas, challenges, examples and commentaries to help you take better pictures.  We all get advice from our friends on what photos to take and how to take them; but sometimes, you just need a fellow photographer, who knows how you think, to give you the feedback you need.
Photozeen is an app that opens up a new world of photography in the palm of your hand.  When you set up an account, you will gain access to all sorts of photos taken from fellow members, giving you inspiration and ideas on what to take and how to take it.  Looking for ideas on subjects to sharpen your skills?  The Quests, offer just that.  Delve into the list of quests to pick up a subject, take a photo on it, and submit. It's as easy as that.  You can also view the gallery of photos offered by others in Inspiration and Rate them. This gives you points, or coins, in your bank account, giving you a better rating as a member of this community.  Higher ratings give you more exposure and more feedback, bettering your photo-learning experience.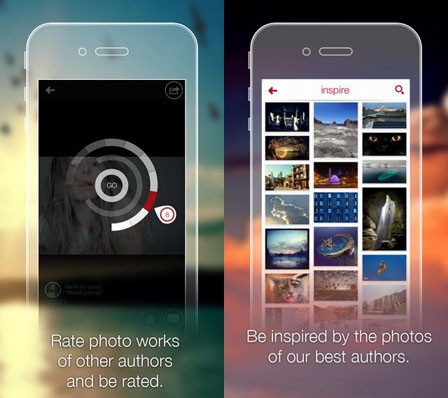 As you submit more photos, you will receive feedback.  Hopefully, this will be in the form of some text and not just a happy face.  Everyone on Photozeen is looking to learn, so they are there for you, to help out, inspire and support.  The instant feedback you get helps shape your approach to taking different kinds of photos and may offer ideas to capture more creative content.
There are lots of apps out there that let you upload and share photos you've taken on your phone.  Photozeen gives you place to go that gives you a path to follow on your quest to take a better picture and learn from others.  Improvement comes from setting increasing harder goals and milestones, and this app allows you to choose your own pace, select those goals and work towards them.  It puts you on a path towards superior snapshots, not random uploads.
I was not really convinced as to the purpose of the coins and the bank account. I guess it's a way to measure your involvement in the app, rewarding you for more participation.  However, it is slightly flawed in that users can randomly collect coins by simply rating photos with mere clicks of icons, with no constructive criticism.
This app provides a pretty interesting way to learn better photo taking skills.  It's a bit scary when you read the description of what the contents may contains, as there is no censorship.  So, if you're kids maybe participating alongside with you on your account, be aware that you may come across some questionable content.  However, for the most part, most submitted photos are harmless, pleasing to the eye and inspirational.