A good president is every citizen's desire, and the citizens of a country have to vote for the best candidate to represent them. Elections are a crazy period for every country in the world. The debates, the campaigns, and sometimes protests cause anticipation in the voters. The question of who will win the polls keeps all citizens on their toes. What if there is a way you could show your support for your preferred candidate that would be recognized and registered in the polls? Thanks to technology, you can increase your preferred candidates' chances of winning.
Presidents Run is an app that allows its gamers to support a political candidate to make a literal run for the seat of the presidency while keeping it fun and colorful. The game has major political candidates like Donald Trump, Joseph Biden, Kim Jong Un, and Vladimir Putin. There are also characters of past rulers in zombie forms like Abraham Lincoln and George Washington. You can pick the president of your choice and take this endless race to increase their polls and get them to the presidency.
There are many awesome and fun features in the Presidents Run. Firstly, you buy your candidates with votes given to you when you start the race. Candidates' prices are between 35,000 votes to 25,000 votes. While racing, you have some goals to achieve like; collecting a certain number of votes, avoiding missiles. When you run more miles, you increase your candidates' chances of topping the polls. So, cover miles and avoid obstacles like; the liberty bell, paparazzi, missiles, protesters, buildings.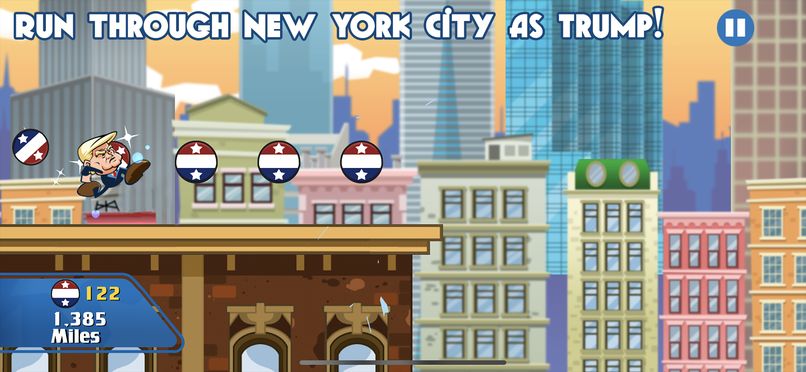 Quick hint, look out for perks that will boost your race, like dual jets that give you double jumps, and magic slippers for double votes, electroboots, and triple buster. Collect votes while racing so you can unlock other presidents. In the game store, you can get some cool game boosts that would make the race smoother and easier for you. You can also upgrade your shoes, and get some beautiful prop hats. You can purchase all these with the votes you collect while running. The game has captivating graphics, and of course, a presidential themed song. You will certainly feel like you are in a presidential event while playing this game.
Presidents Run shows you the leading polls of all candidates so you can know the position of your favorite presidents' on the polls. All you have to do in this free single-player game is race till you beat the opposing candidate as every mile you run is accounted for, and it goes to the world polls in favor of your candidate. Go to the app store now and run the race for your favorite candidate!