We all need a little inspiration sometimes and when it comes to cooking it is no different. We scratch our heads thinking about what we have in the pantry and how we can turn that into something scrumptious. Sweet Recipes, by Paolo Quattrociocchi, will definitely help you accomplish that!
Say goodbye to kitchen nightmares and last minute shopping. You can get organised chop-chop and create divine dishes with the help of this sweet app.
So what will it be, some ideas for appetizers, side dishes, or breakfast? Crystal clear pictures guide your way to what you are looking for. Simply click on the main course meal picture and you are taken to an array of heart-warming meals.
Do not fear if you are no Gordon Ramsay in the kitchen, Sweet Recipes caters for absolute beginners to self-proclaimed masterchefs. Just set the difficulty on "easy" and you are on your way to making "Seared Scallops With a Lemon-Parsley Sauce" – in a jiffy!
Clicking on a side dish of Creamy Pesto Pasta, you are able to see the cooking times, how many it will serve, a neat list of ingredients, and the step by step recipe and photo guide. The photos serve as a helpful tutor, giving you the confidence to create exactly what you see in the picture.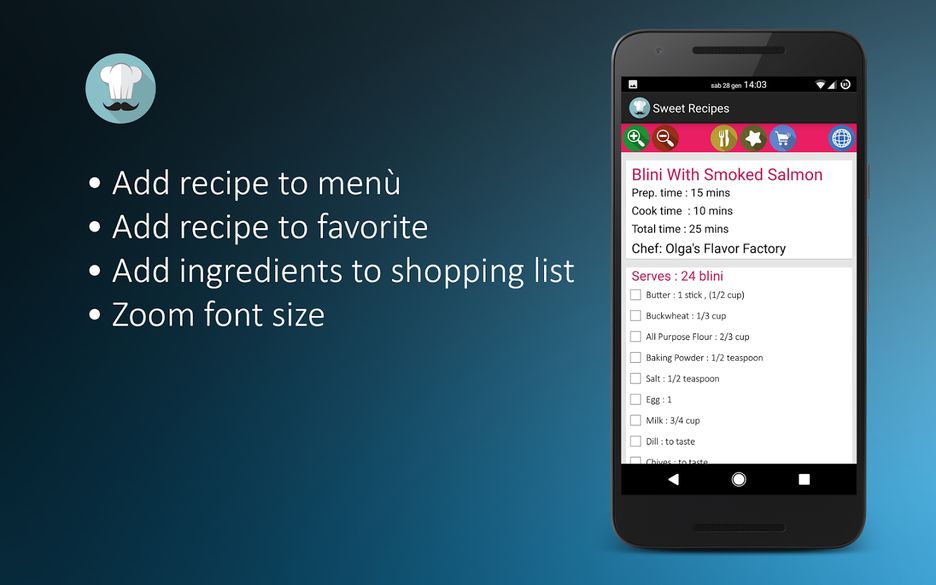 How about something to satisfy your sweet tooth? So, let's say you settle for the Raspberry Cheesecake Tart and you are missing a few ingredients. The app enables you to select those ingredients and create a shopping list. Handy, indeed!
Waiting for that roast in the oven? Brush up on your cooking vocabulary with the A-Z dictionary. Did you know that Au Gratin is a french term for a dish topped with a layer of either cheese or breadcrumbs mixed with butter?
Features
Beautiful and well-designed interface.

Six cooking categories to choose from: Appetizers, Breakfast, On the side, Soup, Main course, and Sweet.

Under each recipe is a step by step photo guide, showing users the exact stages of preparation.

Recipe preparation time, cooking time, and total cooking time are provided.

Personalize menus- great for those special occasions!

From the app, users are able to view recipes on the web.

With the ingredients available in your home, find the best recipes to try out.

Zoom in and out on recipes.

Enhance your vocab with the cooking dictionary.

Save your favorite recipes on the app.

All recipes are bright and different- try them all!

No internet connection is required to use

Sweet Recipes

.

No advertisements.

Contact button available
Maybe you are looking to try something easy and healthy, or you might be the adventurous cook who is attempting something challenging. Whoever you are and wherever your kitchen may be, prepare to be inspired with Sweet Recipes- Easy Cooking!