Traveling can be a big hassle, you are away from home with no sense of direction and it seems like the only places you've been eating lately are fast food restaurants. When you can't find anything else or need help finding you way back Whataplace app is for you. Whataplace was made with the traveler in mind, especially those who go to countries where they can't speak the language. Of course the app can also be used by the home based traveler who is trying to be a traveler in their own city.
The Whataplace app is an app that can help you find where you want to go wherever you are. The app is very simple to use with a nice clean design that makes all the features easy to find. This app allows you to search, share, and save your favorite places, even places not marked on the map. The main feature of this app is the save feature because there are so many things that you can do with it. For example, the app saves the coordinates of where you are at any time and place. This is useful because you can go back into the app and label this location if you would like to so that you remember where it is. The app can also do this without an internet connection, if you are somewhere without service but need to remember where you parked your car you can still easily save the location and come back to it.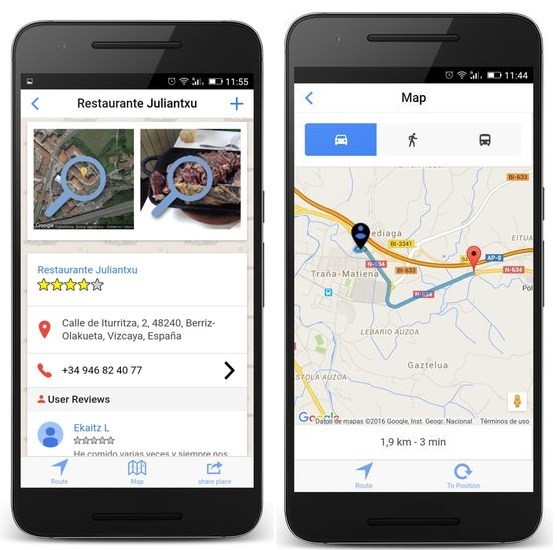 You can also search for locations of many different types that are close to you! The app collects data from Google Places and puts it into hundreds of categories that you have at your fingertips. You can use the categories or you can use the search bar and type in whatever you would like to find. This app can also show you the website, phone number, closing and opening times of what you select, if available. You can also see user ratings in the app to determine where you would like to go.
There are many good features of this app including the ability to share your location or a location with your friends or family. There are many ways to send the information to your friends and family from email, text, or many types of social media. Now there is one slight problem with this app that I have found, sometimes the app shows locations that are a little too far away when there are closer options. The developer has commented on this and is saying that he is working on making this better so soon this won't be a problem anymore!
Whataplace app is an excellent app that can help you get where you are going or find where you were. There are many great features of this app including saving, sharing, and searching for locations with fairly high accuracy. Overall this is a very sound and high quality app that is useful when you are somewhere new. Personally, I do recommend this app because it puts all of the information we look for in one place and being able to save the coordinates of where my car is parked or some other important place is a feature I have not seen in any other apps. This app is great to have all the time!