Partiers rejoice! If you are the kind of person who likes to know what's happening around town and want to get in on the action, Discotech Nightlife is the app for you.
This app is the happening place. It brings together and then broadcasts information about events, performers, DJs, and more, close to you or within an adventurous trip. Free to download, it provides a boat load of benefits, getting your night off with a bang.
If you've ever hit a nightclub and couldn't find room to put your drink down, fret no more. This app has features that allow you to book table service, so there are no hang-ups when you get to where to you want to be.
Looking to save a few bucks? This app offers a list of discounted events and venues. You can even purchase tickets ahead of time, saving you time and possible frustration at the event.
The app is currently working with the hottest nightclubs in Los Angeles, Las Vegas, San Diego, San Francisco, New York City, Brooklyn and Miami.  The app creators are working on getting Chicago, Boston and Washington, D.C. in the works, too. So, if you are currently in a city that is not hooked up to Discotech, consider planning a trip to one of these locations to try it out – adventure is in your blood, and we know it!
On a more serious note, Discotech makes is way easier for folks who are in search of the best nightlife venue in the city they are in. You could be a local or visiting. Either way, the platform is easy to use, and is organized in a way that works for you.
On one screen you will get a list of nightclubs. The list shows how expensive each place is using the $, so you know what you getting into before you get there – a.k.a., you can plan according to your pocket.
If you're not in the market for a nightclub, but want to check out a show or event, the Events page lists all the cool happenings today and into the future. This screen lists the events in the area and allows you to book a table or two, and create a guest list. Share this with friends to make group outings even easier.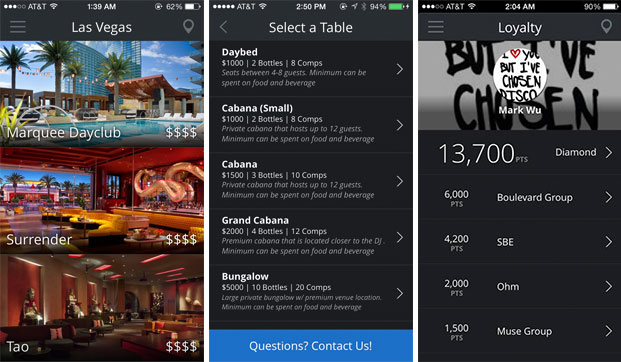 You can even order VIP bottle service straight to your table – a great way to impress the crowd you cavort with. The bottle service allows you to build up points and earn free bottles – what could be better than that!
The only thing that could possibly be considered an improvement upon this app is maybe making the screen for nightclubs a bit more legible. Right now, it shows a colorful list of venues, but the names of these venues is in white text and it overlays the image. Images that are light in color make it hard to see the venue name. I would suggest a smaller pic, and a band in black below the pic with the name and cost.
Outside of that, Discotech was absolutely amazing to use when my friend had to organize a bachelor's party. He was able to easily book the tables he wanted, buy tickets for the group, and order a few bottles of wine, so everything was ready to go once they arrived.