It is rightly said that recovery is about progression, not perfection. To make sure that people struggling with substance dependence keep progressing in their journey to full recovery, Eudaimonia has taken another great step in their mission to provide sober living homes with the launch of their ERH Residents app. The chances of relapse are quite high especially in the early stages of recovery. To tackle this problem, sober living homes provide a convenient way of transitioning slowly into the hectic environment of the world that may otherwise prove to be too challenging for those who are battling drug addiction. ERH Residents app just makes the entire process simple and without any hassles.
The app is available for free on the App Store and is supported by iPhone having iOS 11.0 or later and can also be downloaded for iPad and iPod Touch. It is meant for Eudaimonia's clients or anybody who is looking for peer recovery support and a healthy substance-free environment to live in.
Talking about its utility, the ERH Residents app performs several functions that are quite helpful for a person who just got out of inpatient treatment. The app helps enforce better accountability along with offering recovery support, peer support as well as career support to make sure that a strong foundation is laid and the chance of relapse is drastically reduced. The user can sign up on the app from its game center menu and receive his player name via email or from the house manager. Its features are consolidated under different menus such as Get-Help, Property, Program and Community menu. The app uses GPS to make tailor-made suggestions. The very first menu that the user comes across is Get Help and it is from here that different options such as Detox, Inpatient Treatment, Outpatient Treatment, Sober Living and so forth, can be selected. Under the respective menus, extensive information related to property, from maintenance to check-ins to payment plans, and school or career options, is available.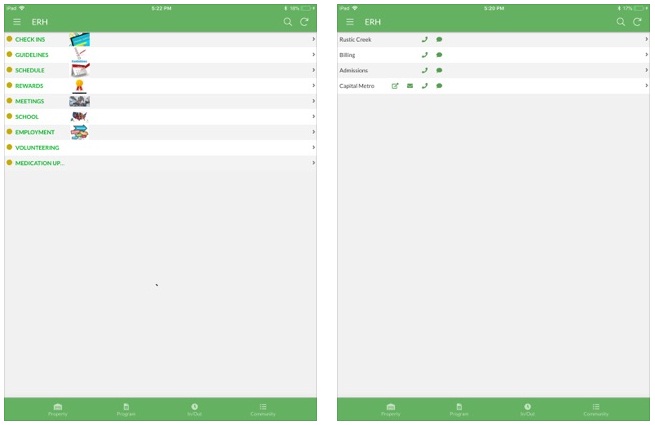 A study on sober living homes concluded that the motivation of people can be enhanced by understanding it as a function of the recovery home social environment. The ERH Residents app works on this aspect by putting in place a system of rewards where points are accrued just like in a game. These points can be exchanged for rewards such as phase 2 and phase 3 requests or overnight pass request. Consequently, the Rewards section under Program Menu will be the most used section by the user. Medication data can also be updated on the app itself which helps in faster data processing and thus enhance accountability. Another aspect that works on the same principle is the Community menu that features a social calendar showcasing different events. Promoting interactions among recovering peers is a great way of improving motivation by helping them feel understood and identify similar vulnerabilities in others. Moreover, with its resources such as the Big Book, The ERH Residents app further supports these efforts.
Although the app has everything that one needs along their journey to recovery in one of Eudaimonia's sober living homes, the integration of their MAP PRSS Support Program with the app would have made it more robust. The design could also be made a little livelier, as a good visual appeal can bolster people's motivation to use the app.
ERH Residents is a decent addition to the critical support infrastructure needed for those who are trying to free themselves from the fetters of addiction. With millions of people struggling with drug problem and alcoholism, such innovations can bring about a remarkable change in the way we engage with them.