For every enthusiast in photography, this is a new app introduced to help you carry and explore your talent on the move, on your phone. This social networking app allows you to share your clicks and edits, showcasing your talent and interests in photography to the world. With a profile of your own, you can put up your favorite clicks and earn a group of followers who appreciate your work. This also gives you a chance to interact with some of the greats in the field, know their opinions and help improve yourself.
You take part in the Competition and uploading pictures you clicked can earn you likes to get you to the top of the charts. This means you earn reward points of gold and silver displayed on your profile along with the rest of your bio and profile picture. Also, with the Premium options, you can promote your photos and spread your work not only among your followers, but to the users beyond the barriers. Earning likes can help you win the competition and receive gifts like electronic goods, free services and others.
The most entertaining aspect of the app is the tasks you are asked to perform. You can take tasks from the people you follow and try to complete those roping your friends in the adventure. You will be given a topic to work on and you can be your creative best in showcasing the best pictures on that topic. For instance, you may be asked to upload pictures on the topic of your 'dream vacations' or a project including pictures with your cat. If a travel agency gives you the task of describing your vacations through your photographic captures, the photo with most likes can win gold points and you earn a free trip to some exotic location. These contests keep up the spirit of the app and help you explore yourself in this field of interest. Your earnings of gold and silver coins will be displayed on your profile.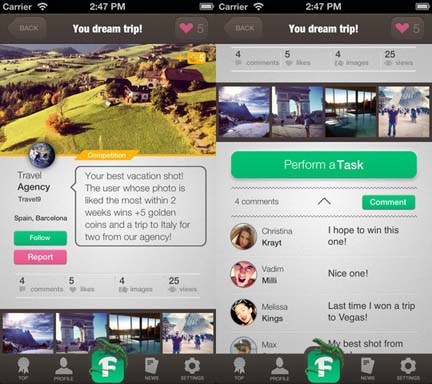 Apart from showcasing your own pictures, you can also view what other people upload. All you have to do is follow the users you like. Keeping track of their regular uploads can help you improve your own work of art and creativity. There are people from round the world, who are either amateurs in photography, learning each day or even the experts in the field.
The users, however, have complained of an issue that sometimes the app gets hanged while uploading pictures online. This becomes time consuming and affects the overall activity of the user. Developed by Vadim Shapovalov, FoTask is available in English and requires an iOS of 5.0 or higher. This app can be availed by users of iPhone 3 to 5, iPod Touch and iPad. So far, the app has put up a good performance among the users and is available for free at App Store.