Sea Tale HD can please people who possess an inherent interest in the endeavor of searching for treasury and formulating various strategies to achieve the same. It can also charm the players, who are admirers of the sea life, the fishes and the herbs and plants which grow underwater. Thus, practically the audience base of this app stretches to a large age bracket of individuals.
As you download the app, the one little thing which will draw your attention is the ace player of this app, the 'fish' in brown color with yellow fins. If you look at the intricate details of the fish you will certainly applause for the intelligent use of the graphics. The gaming app is designed in such a manner that the player of the game remains hooked till the end.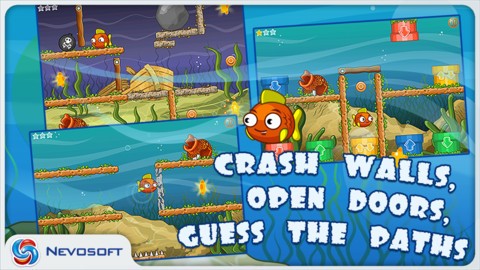 The game is broken into twenty levels; one cannot reach further levels, without crossing the previous levels. Thus, if you desire of reaching till the 20th level, you certainly have to start from the scratch. The theme of the app is that you have to act as a companion to the fish in her endeavor of collecting the starfishes. However, grabbing the starfishes is not that lucid, as you move from one level to another, the level of difficulties aggrandizes. The hurdles are provided in the form of stones, bombs, spikes and discharges in the form of electric current. Thus, thrill is certainly on the cards when you play this gaming app. You are required to crash the walls, open the doors and formulate strategies for the correct path to make the fish reach her goal.
Sea Tale HD is good at certain points, but one thing which brings a little trouble for this app is in terms of its battery consumption. The graphics as well as the sound level pose threat to the users in terms of the high consumption of the battery. Even if the gaming app is played till one or four levels, the battery consumption certainly scores much higher than the charm of the game. Thus, in case of emergency, when the phone is a little low on battery, it is advisable not to indulge in this app.
This app is the thing for leisure time, when you and your phone's battery, both are free and high!