At first glance, I was skeptical that I would find an event finder app beneficial in my life. I was pleasantly surprised to find that it was easy to use and offered more features than I had thought it would – especially for a free app and service; however, that isn't to say that there aren't things I would change or add overall.
This event searching tool provides many useful features. While finding an event may sound easy, there are many instances where that is no easy feat. Have you ever been on vacation or a business trip and want something unique and fun to do? What about traveling aboard and looking for a local festival or concert? Have kids and need some summer ideas? Move to a new place and looking for the night scene?  eventseeker can assist in all of these instances and more.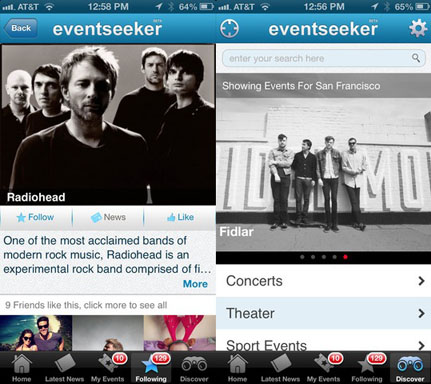 Not only can you search for an event and get the details for it, you can check out the ticketing situation, prices, and even place an order through eventseeker. With the information already on your iPhone or iPad, this innovative app shows all the artists on your phone or tablet – if you allow it. From there, you can see who is on tour, which is extremely helpful. It doesn't matter if the artist is on your list of music or if you search for them, you can follow the artist or an event easily. On the artists' pages, you can view a synopsis of the artist or band, content (including pictures) posted by them, upcoming events, and other information.
While the great features are vast, there are some aspects I would change, such as sharing the event, suggestions, and reviews. There are some great categories on the app for events, including concerts, theatre events, sporting events, cultural events, nightlife, educational, festivals and fairs, family friendly events, community type events, business and tech events, and tours. I would add two more types of event: tastings or food and beverage.  As a female in her 20s, I enjoy wine tastings, cheese and other food pairings, beer making classes, food tastings, and other events. I didn't really see a section that would include these types of events, but I think there is a need.
It is easy to follow or like an event, but it would be much more helpful to email event information to myself or others. Often, I am interested in an event, but I may not be sure if it will fit into my schedule or tastes. I would like the option to save the event information until I decide what future this event holds in my ever demanding schedule.
When I find an artist or group I like, I tend not to deviate from what I already like. Since eventseeker can, with your permission, use your smartphone data and music, suggestions for things you may like would also be beneficial. For example, "If you like Nickelback, check out Three Days Grace." Out of all my suggestions, I believe that this would be the additional feature I would use most.
Providing review for attended events would be a nice feature to add to eventseeker. Along with finding events, I think that it would be helpful and insightful for event goers to be able to review events for other eventseeker users to see and use. I have experienced a similar feature with Netflix and Fandango and enjoyed posting my experience as well as reading others.
All things considered, eventseeker is an app that I would suggest to a friend or family member if they enjoyed attending events. None of my suggestions or additions would make me delete the app from my iPhone, but they sure would help. I will continue to use this app and enjoy all of its current benefits.