There are very few games that you can find that can give you both adventure and thrill. However, when you have Fox Tales: Rocket Run; you will get the best adventure in a very thrilling way. I have seen quite a number of entertainment applications but this is quite unique and very interesting. The app offers more than just a game and it is what would suit you after a long and frustrating day. Have a look at this review and get to know all that there is about this app.
First of all this is a simple and unique entertainment app. The app is about Kizu the fox and the rocket. The fox is strapped with a rocket on his back which propels him to the sky. However, the journey to space is not all smooth and quiet but there are so many challenges which Kizu has to overcome. In case he fails to beat these challenges and obstacles the fox will fall and a grave stone appears at the point where he has fallen.
Rockets are very fast and so as you might have expected this is also a very fast game. It is the fast and dangerous speed that brings out the thrill in the game. The adventure is brought out by the tour and the obstacles that Kizu has to beat in order to progress. The graphics of the apps are of the best quality and you will definitely like whatever you will be seeing. The game is also not just quiet all through but there are some very entertaining tunes and sounds that you will enjoy.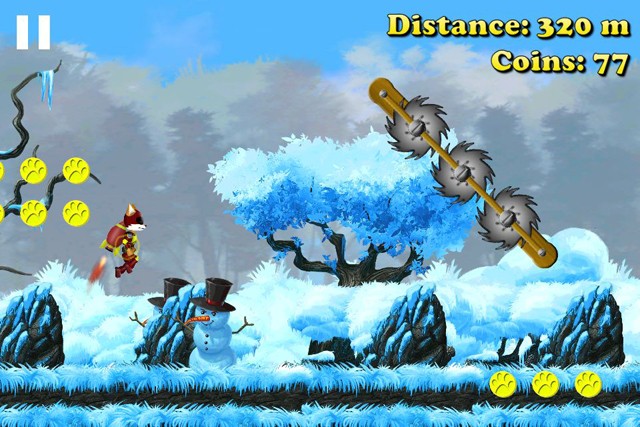 Fox Tales: Rocket Run is simple to learn yet very hard to master. Once you have downloaded and installed the app, you will be set to go to have a thrilling game full of adventure. Kizu the fox is strapped with a rocket on his back and thus your job will be to steer Kizu into the sky and help him dodge the numerous objects that are falling from the sky. The falling objects include spinning saws and burning saw blades. Nonetheless there are also birds in the sky that you need to dodge so as not to collide and crash. However, there is an option of taking armor so as to use to protect Kizu in case of a collision.
All through the tour there will be coins floating around you. In order to collect these coins and get bonuses you will have to use a coin magnet. This magnet will attract all the coins around you and thus you can be able to collect as much as possible. The app can be played by several players though not all at once. The progress made by each player will be recorded and stored. This way, while playing the game you can also see the point where your friends reached which will be marked by a grave stone. Thus the game is not just entertaining but also competitive.
The app runs smoothly in almost all devices but it is noted that it is quite slow and hangs a bit when using it on a few lower end devices; otherwise it is a good app.