tic tac phOto by tictacphOto LLC is a new game, for young and old alike.  Remember drawing those familiar lines to create a grid of nine squares, filling them with either an X or an O, to see who filled a row first?  It's probably been quite some time since you've played tic-tac-toe, but this app sheds a completely new light on a game that has existed forever.
In this version of tic-tac-toe, you play with photos instead of X's and O's.  Sound strange?  Well, think of how interesting a game board you will make after you have filled the squares with imagery you find around you.  This is not mere slashes of X's or bubbles of O's that fill paper; this is gaming on the move, finding and capturing art while taking control of the board.  Ok, so it's not like you are playing chess or something as strategic as that.  You are simply making your move by filling a space with a photo.  This photo can be an on-the-spot shot, it can come from your device's photo library, or it can come from a previous submission for a completed game.   Choose your photo, edit it if you like, and submit to claim your square.  tic tac phOto notifies your opponent that you're done and the ball is in their court.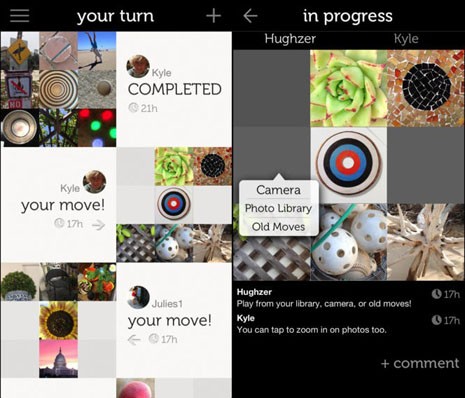 How do you find an opponent?  Use Facebook, invite someone through email, or search through existing in-app players.  To find players in the app, peruse the Gallery of past games, click on a user to see their username and invite them to be your 'friend'.  Once someone is your friend, you can choose to start a game with them.  Then, the fun begins.
You and your opponent take turns selecting a square and filling it with a photo.  There are no time limits on each person's move, so games may last minutes or days.  When you complete that game, you will be astonished with what you have created. Neither one of you will care about who won, because, let's face it…most games end in a draw.  What you'll care about is what the game board looks like.  Just think of the possibilities of photos you can use to fill up the grid.  You can choose a category and let your creative juices flow.
tic tac phOto itself is fairly simple; however, with some out-of-the-box thinking, you can make this game far more challenging than it appears to be.  Since games could last days and you might lose interest, why not spice things up a bit by challenging your opponent with time limits on moves.  There are no built-in options for this, so players will not be forced to make a move or forfeit.  But, you can play on good faith.  When the next move is made and its timestamp is outside the agreed-upon limit, you can close shop or just play on.
Overall, I found this app to be a fun and entertaining way to fill up some time and end up with a neat collage of photos I might otherwise have not taken.  If you are an aspiring photographer and you want to pair up photo taking practice with a game, tic tac phOto is your ticket.  Just looking at the gallery of games, I could see some cool pics of things, people, faces and just about anything that, when juxtaposed in a 3×3 grid, make for a quilt of imagery.